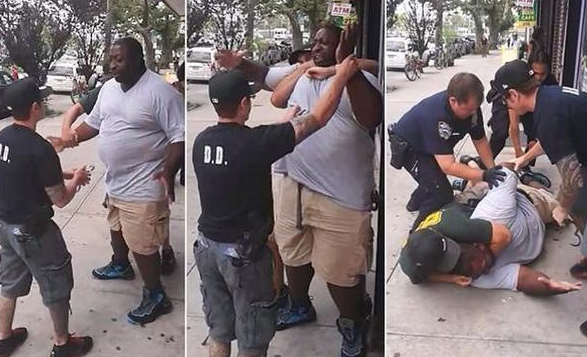 Eric Garner, Innocent father choked to death by NYPD on July 17.
Stories this photo appears in:

Federal civil rights prosecutors have recommended charging a New York police officer in the 2014 chokehold death of Eric Garner, but it's unclear if top Justice Department officials will be willing to move forward with a case, a person familiar with the matter said Friday.

The family of a Staten Island man killed by a police chokehold met with Justice Department officials Wednesday as a federal investigation of the case hangs in the balance.

Sunday, July 17 marks two years since the police killing of Eric Garner.

Two weeks after a Staten Island grand jury decided not to indict NYPD officer Daniel Pantaleo for the chokehold death of Eric Garner, two lawmakers have announced plans to introduce legislation that would require district attorneys to publicly release testimonies and evidence presented to grand juries.

Reports indicate that a grand jury has decided not to indict NYPD Officer Daniel Pantaleo in the death of Eric Garner, an unarmed Black man.

Queens Democratic City Councilman Rory Lancman plans to introduce a package of bill on Thursday, that aims to criminalize the use of chokeholds by NYPD officers and provide guidelines on how the tactic can only be used.

An expert forensic pathologist hired by the attorneys representing the family of Eric Garner, whose death was ruled a homicide after an apparent police chokehold that Police Commissioner William Bratton said is prohibited, concurs with the city's medical examiner's autopsy report, which stated that Garner died of neck compression.

Last Thursday night at the Central Family Life Center, what started as a five-person panel to educate the neighborhood on their legal and civil rights escalated into the audience challenging one another and their hosts from the NAACP to initiate direct change and stop relying on rhetorical devices and speeches.

Saturday, Aug. 23, civil-and human-rights activists will assemble on the other side of the Verrazano Narrow-Bridge, not the Edmund Pettus Bridge over the Alabama River, as marchers did in 1965

Staten Island District Attorney Daniel Donovan announces that a grand jury will determine if charges should be filed in the death of Eric Garner

A growing chorus of activists, civil rights groups and others are calling for the prosecution of the New York City police officer who administered the chokehold that led to the death of Eric Garner, the 43-year-old African-American man who was pursued by police on Staten Island because they thought he was selling loose cigarettes.