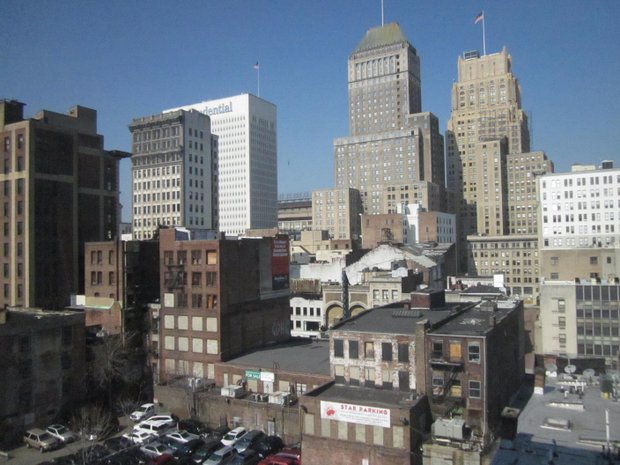 Newark, New Jersey
Stories this photo appears in:
Saturday, Newark residents completed surveys about policing in the city at the Training, Education and Recreation Center in the Dayton neighborhood
Backlash is growing for the state to fire a white state employee who allegedly committed what is believed to be a hate crime against a Black Muslim woman earlier this month.
Numbers from the New Jersey State Police indicate that while the total number of hate crimes has gone down, the number of hate crimes targeted toward Muslims in the state is up.
Officials are preparing for the sixth annual #24HrsOfPeace and second annual "Occupy the City" in an effort to curb violence in the city.
Newark Mayor Ras J. Baraka, teen program participants and representatives of partner/funder organizations recently launched a youth summer employment program.
The Institute of the Black World is holding its fourth State of the Black World Conference Nov. 16-20 at the Robert Treat Hotel in Newark.
The White House chose the city of Newark as one of 16 communities to take part in the Special Impact Hub program, aimed at upgrading and expanding community programs (including job, learning, meal and violence reduction programs) for young people this summer and year-round.
The People's Organization for Progress continued its "Justice Department Mondays" rallies demanding federal intervention in the police brutality cases of Abdul Kamal, Kashad Ashford, Jerame Reid and Radazz Hearns.
The consolidation of several municipal agencies in Newark, N.J., will cut six positions down to two and save the Brick City almost $600,000.
After more than six months of planning and promotion, the Million People's March against police brutality is set to take place this Saturday in Newark N.J.
The People's Organization for Progress hosted an emergency march and rally to condemn the Black church massacre that took place in Charleston, S.C.
A scathing report out of New Jersey indicates that 15 people have been shot by police in the Garden State over the past two years. Nine died at the hands of law enforcement.
The People's Organization for Progress announced plans for a "Million People's March for Justice for All Victims of Police Brutality" July 25 in Newark, N.J.
Newark recently saw five killings in five days with four occurring in the city's South Ward.