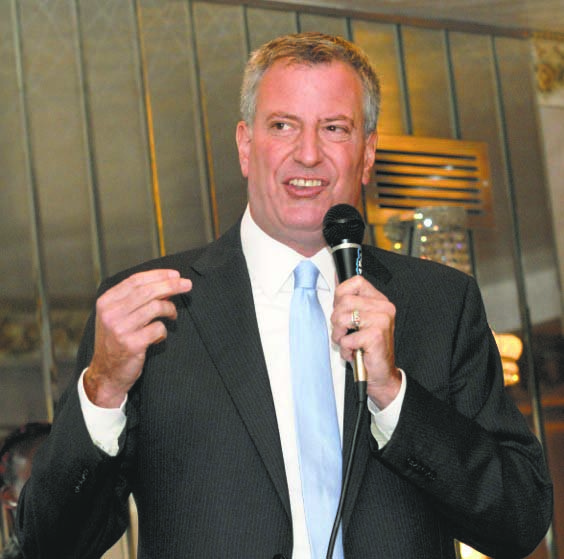 Bill de Blasio
Stories this photo appears in:
Mayor de Blasio's first ever town hall meeting on Staten Island was held last month in a gymnasium named after the island's current Republican Borough President James Oddo.
New York City Mayor Bill de Blasio, and others from around the country have filed an amicus brief pushing for the U.S. Supreme Court to let President Barack Obama execute his executive action on immigration.
Some New Yorkers might wonder aloud who's exactly in charge of education in New York City.
Last week, Mayor Bill de Blasio announced a campaign urging New Yorkers to sign their children up for pre-K. The mayor said the city has secured the funding necessary to expand pre-K to 53,000 children this September.

Black leaders, politicians and community members remember Basil Patterson, former secretary of state, NYC Deputy Mayor Basil Patterson
Whether it's affordable housing or homelessness, New York City Mayor Bill de Blasio's legacy isn't just tied to charter schools and universal pre-K. A group of activists and supporters of the mayor gathered outside of City Hall last week to call for more affordable housing, stating that his current policy goals don't go far enough.
Last week, the mayor axed plans by former Mayor Michael Bloomberg to further expand Success Academy schools into public school spaces
opinion-editorial
Dear Mayor Bill de Blasio, Schools Chancellor Carmen Fariña and Deputy Chancellor Dorita Gibson:
The chorus of those in favor of universal pre-K for all of New York City's children has grown significantly.