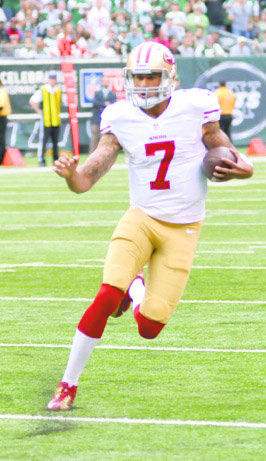 The 49ers' Colin Kaepernick can win the battle with his arm or by running the ball. Russell Wilson, the Seahawks' second-year quarterback, is seeking his first Super Bowl title
Stories this photo appears in:

Taking a page out of the very same book that has eternally etched the anti-establishment protests of legendary socially conscious athletes Muhammad Ali, John Carlos, Tommie Smith, Mahmoud Abdul-Rauf and Craig Hodges, just to mention a few, Colin Kaepernick has utilized his star status to heighten awareness about relevant social issues. Mainly the torrent of police terrorism consistently committed across the country against America's citizen of color.

In less than two weeks, the show starts. Yet this week, the league finds itself front and center for reasons outside the gridiron. San Francisco 49er quarterback Colin Kaepernick has set it off with what has become a polarizing act.

The NFC Championship had to come down to the Seattle Seahawks facing the San Francisco 49ers for the honor of playing in Super Bowl XLVIII.