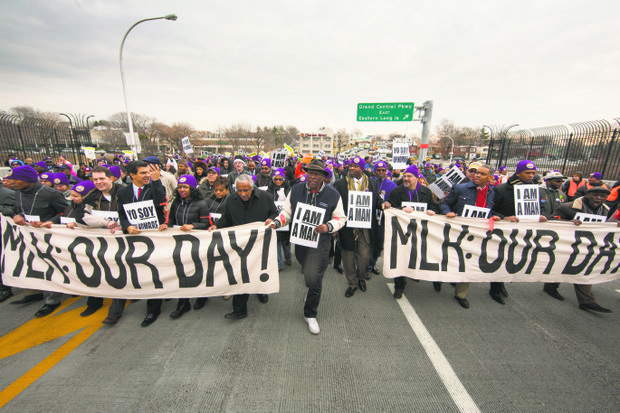 Airport workers and supporters protest on MLK day
Stories this photo appears in:
Port Authority board members voted unanimously to raise the wages of all contract employees at Kennedy, LaGuardia and Newark airports
New York City area airport workers continued their fight for better wages last Friday while honoring a civil rights legend.
On Monday, airport workers, activists, clergymen and elected officials protested at United Airlines' offices at Newark Liberty International Airport in support of higher wages. With workers at John F. Kennedy and LaGuardia airports recently celebrating a wage increase, Newark Airport's service workers refuse to be left out of the conversation.
Following President Obama's announcement of his Executive Order to raise the minimum wage for federal workers to $10.10, the Port Authority of New York and New Jersey ordered airlines to give their minimum wage employees an immediate raise.
They gave you fair warning in December. Beware.