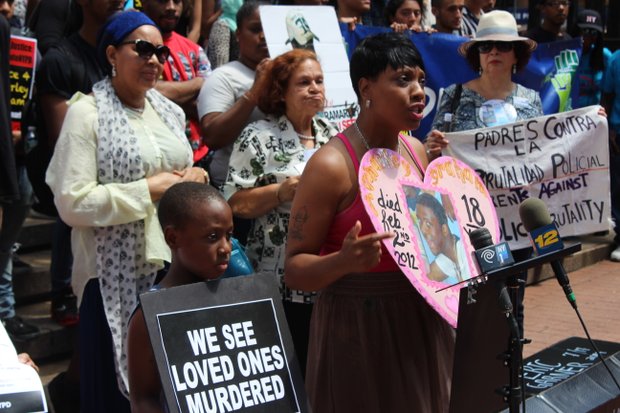 Mother of Ramarley Graham, Constance Malcolm
Stories this photo appears in:

The decision to allow a New York City police officer who killed an unarmed teenager to resign of his own accord was a "slap in the face" to the teen's mother, she said on Monday.

The mother of Ramarley Graham, Constance Malcolm, was joined by community supporters to announce their filing an appeal of the de Blasio administration and NYPD's blanket denial of their Freedom of Information Law request for records pertaining to the killing of her son.

A Bronx woman whose teenage son was fatally shot by police five years ago is demanding justice; she's holding a rally demanding the firing of several NYPD officers.

After the NYPD revealed last week Thursday that they plan on conducting a department trial for Richard Haste, a cop who unlawfully broke into a Bronx home, and then shot and killed unarmed 18-year-old Ramarley Graham during the afternoon of Feb. 2, 2012, his mother quickly responded.

Four years after her unarmed son, Ramarley Graham, was gunned down in his grandmother's bathroom for allegedly having a gun, Constance Malcolm took her fight for justice to Gracie Mansion Sunday, calling on Mayor Bill de Blasio to fire the officers involved in the February 2012 shooting.

Flanked by dozens of youths outside the Department of Justice office in downtown Manhattan last week, the mother of Ramarley Graham urged U.S. Attorney Preet Bharara to speed up his investigation and slap civil rights charges on Richard Haste, the NYPD officer who killed her unarmed son.