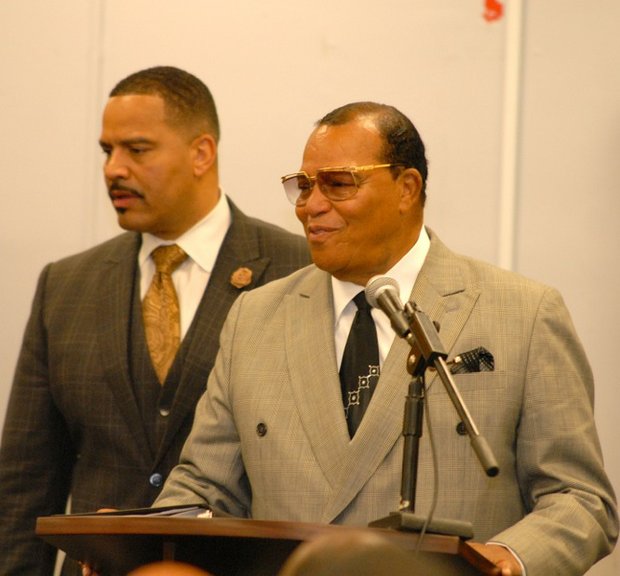 Min. Louis Farrakhan with son Mustapha speaking in Harlem last week.
Stories this photo appears in:

It was during a mid-2005 Congressional Black Caucus meeting on Capitol Hill that award-winning journalist Askia Muhammad captured one of the most significant photos of his career.

The Nation of Islam commemorated the 22nd anniversary of their historic Million Man March, which occurred in Washington, D.C., Oct. 16, 1995, with a forum at Newark, N.J.'s Symphony Hall. Their leader, Minister Louis Farrakhan, echoed much of the powerful speech of his spiritual father and former NOI head, the Honorable Elijah Muhammad, delivered at Harlem's 369th Armory Aug. 27, 1961, titled "Separation or Death."

The Honorable Elijah Muhammad, founder of the Nation of Islam, who opened Black America to the acceptance of Islam, along with the discipline of fasting, will be honored at a reunion titled, "The Love That Love Produced," Saturday, June 20, 6 p.m., at the Borough of Manhattan Community College, 199 Chambers St., in lower Manhattan.