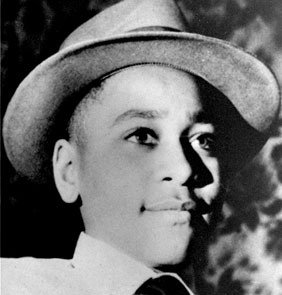 Emmett Till
Stories this photo appears in:

A group of St. Louis students took lessons learned in their social justice program and put them into action when they encountered vandalism hundreds of miles away.
Throughout history, certain events have directed, or even redirected, the course of our society. Historians often try to determine the focal point of past events for the next generation of humanity.
Relatives of Emmett Till speak out after woman's confession
He's been dead for more than 60 years. Buried with Emmett Till was the truth to what led to brutal murder in 1955. But the latest development in the case is not going well the Till's relatives in Chicago, the murder boy's hometown, where schools and streets are named after him.
An upcoming book by author and Duke University senior research scholar Timothy Tyson reveals startling new information about the infamous Emmett Till case.
The sign marking the site where Emmett Till's body was found is now riddled with bullet holes.
Recently, in an otherwise thoughtful column in The New York Times, noted journalist and author Isabel Wilkerson perpetuated a misconception about the mother of Emmett Till.