2011 was a good year for the international Afrobeat superstar Femi Kuti-a very good year....
"Let's Make History" is the final track on Femi Kuti's Grammy-nominated album "Day By Day"...

Seun Kuti, 31, is the youngest son of musician/activist and founder of the Afrobeat rhythm, Fela Kuti. The new film about his father's life and the making of the successful and Tony Award-winning musical, "Fela!," is directed by Alex Gibney and executive produced by Stephen Hendel and Ruth Hendel (the producers of the Broadway stage production). The film opens Aug. 1.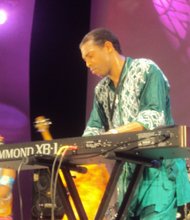 Create search alert for "Femi Kuti"