Members of the labor community and elected officials came out last week for the New York Amsterdam News and Bill Lynch and Associates' "Tying Communities Together" Labor Awards Breakfast at the Alhambra Ballroom in Harlem.

Although they're depicted as operating with different agendas in mind, the annual New York Amsterdam News Labor Breakfast shows what can be achieved when activists, workers and politicians are in sync with each other.
From New York to Chicago and the rest of the country, fast-food workers are letting their voices be heard.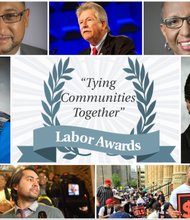 Create search alert for "Jonathan Westin"