This past Monday was the 98th birthday of Nelson Mandela.

It was a long night for the African National Congress party faithful as a popular revolt in the cities of Tshwane (Pretoria) and Port Elizabeth upended the ANC's long-held power base in those two key municipalities.

In the early 1960s she was introduced to the world by singer and activist Harry Belafonte, singing in her incredible, unique South African vocalizing style of yells, chants, hums and scats woven into the electrifying soulfulness and spiritual vibrations of African music.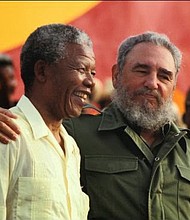 Create search alert for "Mandela"