The personnel of radio station WBAI-FM spoke their minds, not on the radio but at City Hall July 13.

In New York City City Hall, the WBAI-FM radio station is set to have a press conference on Thursday at 1 p.m.

Almost 40 years ago, founder and executive director Madaha Kinsey Lamb developed a vision for an interdisciplinary arts facility for underserved young people in the Northeast Bronx.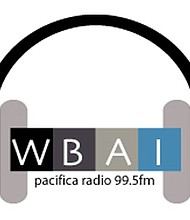 Create search alert for "WBAI"