The personnel of radio station WBAI-FM spoke their minds, not on the radio but at City Hall July 13.

In New York City City Hall, the WBAI-FM radio station is set to have a press conference on Thursday at 1 p.m.
Like the hundreds who attended Elombe Brath's events at the Harriet Tubman School in the past, there was a sizable crowd in the heart of Harlem last Saturday for a street co-naming ceremony in honor of the esteemed "freedom fighter," as he was repeatedly called.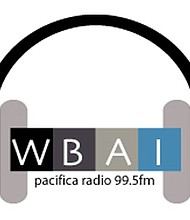 Create search alert for "WBAI"