New York City Mayor Bill de Blasio says he won't meet with Republican President Donald Trump to discuss infrastructure funding.
Although a lot of media attention is devoted to the Patrolmen's Benevolent Association's protests of the mayor's trip to Des Moines, Iowa, another union announced its objection as well.

More than 2,000 city officials and supporters cheered Mayor Bill de Blasio on during his hour-long speech Tuesday evening.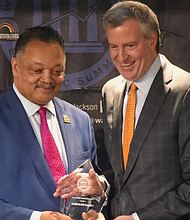 Create search alert for "bill de blasio"