Mayor de Blasio has had a tough year with an ongoing federal probe into his administration, resignation of his press secretary and public feud with Gov. Cuomo, but now voters are saying they're not happy with him either.

New York Mayor Bill de Blasio on Monday defended a racial joke he told Saturday night during a skit with Democratic presidential front-runner Hillary Clinton, saying critics were "missing the point."

Presidential candidate Hillary Clinton and Mayor Bill de Blasio have taken the disrespect up another level.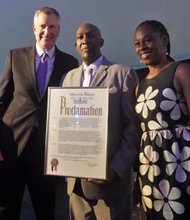 Create search alert for "bill de blasio"