LeBron James won't be among the guests staying at the Trump SoHo hotel.
With much needed help from Kyrie Irving, who was officially minted as a superstar by virtue of his stellar and clutch performance in June's NBA Finals, LeBron James made good on his promise of delivering a championship to the city of Cleveland, its first since 1964.

Comparing athletes and coaches from various eras is a common practice among fans and journalists.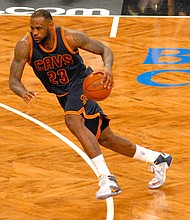 Create search alert for "lebron james"