Youma Nafo, who serves as food pantry coordinator at Harlem's African Services Committee, said his organization has noticed an increase in the number of people who need pantry services over the past two years.

Many, many months ago, I heard of a small restaurant on Seventh Avenue. It was the first chef's table restaurant with only 12 seats and an open residential style kitchen. I was intrigued.

All over the city, New Yorkers spent at least a part of their Thanksgiving Day serving food to fellow New Yorkers, cooked or donated by local residents, organizations, churches and restaurants.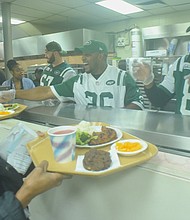 Create search alert for "Community Kitchen"