Unions participated in this year's Labor Day Parade on 5th Avenue in Manhatten.

We in 1199SEIU refer to Dr. Martin Luther King Jr. as our North Star. We constantly ask ourselves, what would Dr. King do?
We in 1199SEIU have been in high gear since September, pulling out the vote for Hillary Clinton and labor-friendly candidates for Congress and state houses.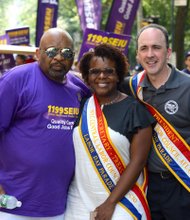 Create search alert for "1199SEIU"