For the first time in history, people of color and women make up most applicants for the upcoming New York City firefighter test, which many fire department officials celebrate as an important high-water mark in the long-running battle to diversify city firehouses.

United Women Firefighters and The Vulcan Society Hosted a festival held at St. Mary's Park in the Bronx this past Saturday, April 8, in an effort to bring more diversity to the FDNY. Participants were able to file for the exam as well as participate in a 5K race called "Are You Brave Enough" that mimicked similar obstacles that firefighters face.

The bystander's video starts with a chaotic scene: An ambulance runs through an intersection in New York, one of its doors open, lights flashing. It drags what appears to be a person trapped under the vehicle.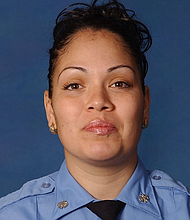 Create search alert for "FDNY"