Losing the 2016 presidential election was "pretty devastating, especially considering who I lost to," Hillary Clinton told graduates of Medgar Evers College on Thursday.

In the spirit of Women's History Month, the Caribbean Research Center at Medgar Evers College, Black Women for Fairness & Equity, Shirley Chisholm Women's Empowerment 2017 and Conference Chair Assemblywoman Diana C. Richardson will be honoring Shirley Anita St. Hill Chisholm.

The Dr. Mary Umolu Jazzy Jazz Festival will be held on nine Friday evenings, from July 7 to September 1, 2017. This year it will pay tribute to the legendary Lena Horne.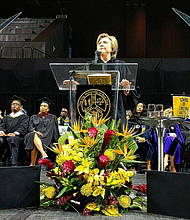 Create search alert for "Medgar Evers College"