On Christmas Eve, the Rev. Al Sharpton, founder of National Action Network, hosted the annual children's toy give-away and feeding of the homeless and the underserved at the Harlem House of Justice.

The National Action Network is hosting its 26th national convention April 26 through April 29 at the Sheraton Times Square Hotel.

The National Action Network, led by civil rights leader the Rev. Al Sharpton, announced the route for a rally and march on MLK weekend Jan. 17, just six days before the presidential inauguration. The 2017 march on Washington will start at the National Sylvan Theater and head to West Potomac Park via Independence Avenue SW and end with a rally across from the Martin Luther King Jr. Memorial.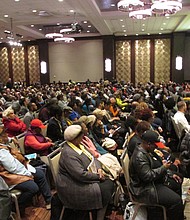 Create search alert for "National Action Network"