Prominent lawmakers and community leaders took aim at President Donald Trump's racial rhetoric at a commemoration of Martin Luther King Jr.'s birthday.

The Board Chair of National Action Network (NAN), Rev. Dr. W. Franklyn Richardson, has asked NAN Founder Rev. Al Sharpton to delay his plans to step down as President of NAN in 2019 upon his 65th birthday.

All over the city, New Yorkers spent at least a part of their Thanksgiving Day serving food to fellow New Yorkers, cooked or donated by local residents, organizations, churches and restaurants.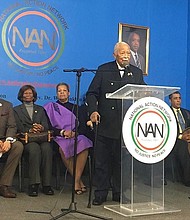 Create search alert for "National Action Network"