"Madiba" provides a handsome centerpiece to BET's Black History Month lineup, solidly chronicling Nelson Mandela's struggles against Apartheid over three nights, with Laurence Fishburne playing the South African leader.

When I learned that this humble man of fortitude who was an integral force within the long battle to end apartheid in South Africa died March 28, in Johannesburg, it was a very sad moment for me. He was 87.

In the aftermath of "Mandela Day" (July 18), the worldwide acknowledgment of Nelson "Madiba" Mandela, we join the world in celebrating this "world champion of human rights," whose light continues to shine around the planet.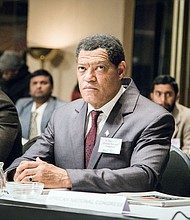 Create search alert for "Nelson Mandela"