This past Friday, the day after Thanksgiving, Nov 25, 2016, the parents and former fiancé of Sean Bell celebrated the life of the 23-year-old father of two, who was gunned down in a hail of 50 bullets by three NYPD officers 10 years ago.

"Nov 25, 2016, marks the 10-year anniversary for Sean Bell," said Valerie Bell, mother of the slain unarmed 23-year-old father of two young girls, who was shot dead in a hail of 50 police bullets as he left his bachelor party in the early morning of his wedding day Nov. 25, 2006.

Bill Cosby is trying yet again to get a criminal case against him tossed—this time with a filing in Pennsylvania by his new lead attorney, according to reports.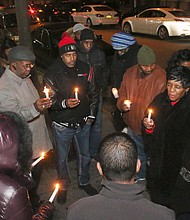 Create search alert for "Sean Bell"