This past Friday, the day after Thanksgiving, Nov 25, 2016, the parents and former fiancé of Sean Bell celebrated the life of the 23-year-old father of two, who was gunned down in a hail of 50 bullets by three NYPD officers 10 years ago.

"Nov 25, 2016, marks the 10-year anniversary for Sean Bell," said Valerie Bell, mother of the slain unarmed 23-year-old father of two young girls, who was shot dead in a hail of 50 police bullets as he left his bachelor party in the early morning of his wedding day Nov. 25, 2006.

Thursday, April 20, 2017, noted civil rights activists Tamika D. Mallory and Nicole Paultre-Bell will be hosting their third Black Lives Matter Summit at LaGuardia Community College.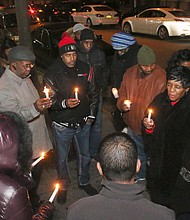 Create search alert for "Sean Bell"