Mother's Day may be a commercially contrived premise, but it brings with it a deep sense of sentimentality for many.

Bill Cosby is trying yet again to get a criminal case against him tossed—this time with a filing in Pennsylvania by his new lead attorney, according to reports.

Four years after her unarmed son, Ramarley Graham, was gunned down in his grandmother's bathroom for allegedly having a gun, Constance Malcolm took her fight for justice to Gracie Mansion Sunday, calling on Mayor Bill de Blasio to fire the officers involved in the February 2012 shooting.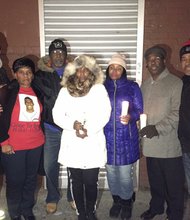 Create search alert for "Sean Bell"