The Anti-Racism Committee of the Episcopal Diocese of New York and Penguin Random House Publishing will present a discussion with Sybrina Fulton and Tracy Martin, the parents of slain youth, Trayvon Martin.

Rallying supporters in this city where 17-year-old Trayvon Martin was shot and killed, Donald Trump on Tuesday described African-Americans as "living in hell" and getting "shot" for simply walking in the street.

A Florida teenager wore a dress featuring pictures of Trayvon Martin, Sandra Bland, Michael Brown, and others to her high school prom.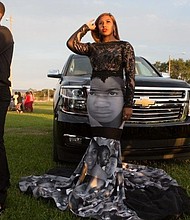 Create search alert for "Trayvon Martin"