The government of a tiny Eastern Caribbean nation and the mighty United States are at it again over the refusal of the U.S. to comply with a ruling by the World Trade Organization that went in favor of Antigua instead of the U.S.
A tiny, tourism dependent nation in the Eastern Caribbean is openly accusing the U.S. of persistently bullying it into submission, largely because the island took Washington to the international trade court and won in a bitter and ongoing row over internet gambling.

Just when the administration of President Donald Trump is applying greater scrutiny to who enters the U.S. and who doesn't, authorities in Antigua are preparing to pull the plug on nearly 20 foreigners who bought passports and citizenship rights under its Citizenship by Investment Program in recent years.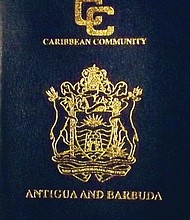 Create search alert for "antigua"