Just when the administration of President Donald Trump is applying greater scrutiny to who enters the U.S. and who doesn't, authorities in Antigua are preparing to pull the plug on nearly 20 foreigners who bought passports and citizenship rights under its Citizenship by Investment Program in recent years.
A Trinidad-based umbrella regional security agency is planning to help governments scrutinize the backgrounds of foreigners applying to become citizens of a string of Caribbean nations that have schemes offering passports and citizenship to expatriates in exchange for investment dollars.

While all of the major airlines in the Caribbean are losing money and carrying debts totaling more than $50 million annually, a small upstart airline, now in its fourth year of operation, is moving to expand and open new routes.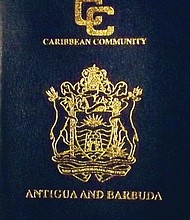 Create search alert for "antigua"