Global music icon, multiple Grammy Award-winner and multiplatinum selling artist, the incomparable Janet Jackson brought her magnificent State of the World tour to Barclays Center Wednesday, Nov. 15.

There could have been a "Welcome Home" sign flashed across the marquee of Barclays Center facing Atlantic and Flatbush avenues in downtown Brooklyn Tuesday night.

Concluding the singing of the national anthem at the Brooklyn Nets home opener against the Orlando Magic at the Barclay's Center Friday evening, Oct. 20 Justine Skye utilized her platform in front of a nationally televised audience to heighten awareness regarding police terrorism and racial injustices her people endure daily, and knelt on the court.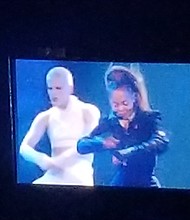 Create search alert for "barclays center"