It was lose one and win one for the New York Liberty on their recent road trip.

First-grade and second-grade students from the Storefront Academy, a charter school in the South Bronx, were treated to  New York Liberty basketball game tickets Sunday afternoon

It was the night that the Phoenix Mercury retired the jersey of Penny Taylor and the players were determined to head into the postgame ceremony with a win.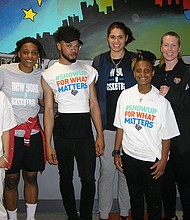 Create search alert for "the liberty"