"We can't play like that and expect to compete for a championship," said New York Liberty coach Bill Laimbeer after the team's opening game of the 2017 WNBA season. Although the Liberty was victorious 73-64 over the San Antonio Stars, the coach felt the effort was disappointing on every level.
It was no surprise that Kelsey Plum of the University of Washington, the all-time leading scorer in NCAA Division I basketball, was the top pick in the 2017 WNBA Draft.
Newark Liberty International Airport hosted a Minority and Women-Owned Business Enterprise Outreach Forum this week, for contractors, vendors and consultants seeking to learn about contracting opportunities for the airport's $2.4-billion Terminal A Redevelopment Program.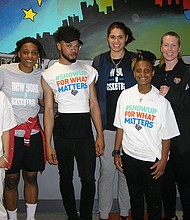 Create search alert for "the liberty"