It was lose one and win one for the New York Liberty on their recent road trip.

First-grade and second-grade students from the Storefront Academy, a charter school in the South Bronx, were treated to  New York Liberty basketball game tickets Sunday afternoon

"We can't play like that and expect to compete for a championship," said New York Liberty coach Bill Laimbeer after the team's opening game of the 2017 WNBA season. Although the Liberty was victorious 73-64 over the San Antonio Stars, the coach felt the effort was disappointing on every level.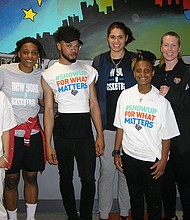 Create search alert for "the liberty"