We've found our chemistry," said New York Liberty guard Sugar Rodgers after the Liberty's tough 104-97 OT loss to the Phoenix Mercury. "It felt good seeing all the old players who paved the way for us to be here today.

After the New York Liberty's home court victory over the Dallas Wings last week, the team hit the road and continued to win. First, they dispatched the Connecticut Sun 80‑72.

As the WNBA heads into its Olympic break, the New York Liberty continue to dominate the Eastern Conference. Sunday afternoon, the Liberty pulled out a hard-fought, physical and close game against the Connecticut Sun, 83-76. Each time the Liberty built up a lead, the Sun countered, even pulling ahead a couple of times.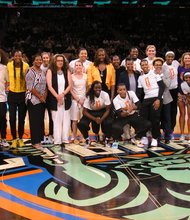 Create search alert for "the liberty"