Golfer Tiger Woods, arrested on Memorial Day in Florida on suspicion of driving under the influence, said alcohol was not involved and he had "an unexpected reaction to prescribed medications."

Flo Anthony's latest celebrity news
The Masters, arguably the most venerable and prestigious golf tournament in the world, begins today at the historic Augusta National Golf Club in Augusta, Ga., which is known as much for its historically elitist and exclusionary policies as it is for its spectacularly manicured greens.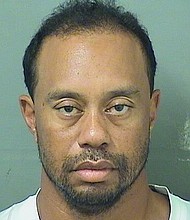 Create search alert for "tiger woods"