Golfer Tiger Woods, arrested on Memorial Day in Florida on suspicion of driving under the influence, said alcohol was not involved and he had "an unexpected reaction to prescribed medications."

Flo Anthony's latest celebrity news

He can only hit 60-yard shots as he recovers from his latest back surgery but Tiger Woods will return to a golf course this week as an assistant captain at the Presidents Cup.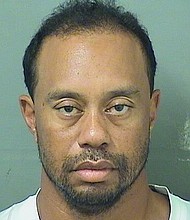 Create search alert for "tiger woods"