"Since the State Assembly gave Mayor de Blasio mayoral control over our schools, which I opposed, let's demand that he includes in the curriculum the 'real' history of Christopher Columbus," Assemblyman Charles Barron told the Amsterdam News.

Sunday, Aug. 13, 2017, Brooklyn's First AME Zion Church, family and friends came out to celebrate Mother Margaret R. Smith's 95th birthday.

In the wake of the deadly mudslide in Sierra Leone this month, Assemblyman Charles Barron and Operation P.O.W.E.R. organized a community fundraiser in East New York Monday night, Aug. 28, 2017.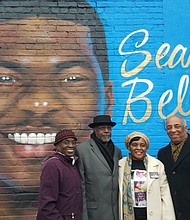 Create search alert for "Charles Barron "