Brooklyn-based community organization 500 Black Men Making a Difference is hosting Assemblyman Charles Barron for his "We Are Mighty Builders" Black History Month presentation, Sunday, Feb. 26.

With the help of elected city officials, the Pennsylvania Avenue Station on the No. 3 line in Brooklyn is now reopen to East New York commuters.

Assemblyman Charles Barron and City Councilwoman Inez Barron, along with several education activists, called out Gov. Andrew Cuomo on the hypocrisy of his recent tuition-free education initiative.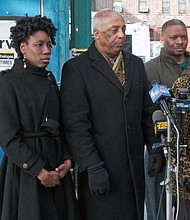 Create search alert for "Charles Barron "