Brooklyn-based community organization 500 Black Men Making a Difference is hosting Assemblyman Charles Barron for his "We Are Mighty Builders" Black History Month presentation, Sunday, Feb. 26.

With the help of elected city officials, the Pennsylvania Avenue Station on the No. 3 line in Brooklyn is now reopen to East New York commuters.

This past Friday, the day after Thanksgiving, Nov 25, 2016, the parents and former fiancé of Sean Bell celebrated the life of the 23-year-old father of two, who was gunned down in a hail of 50 bullets by three NYPD officers 10 years ago.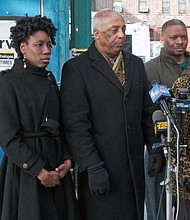 Create search alert for "Charles Barron "