Hip-hop mogul Jay Z will headline a concert for Democratic presidential nominee Hillary Clinton in Cleveland before Election Day.

Social media is buzzing over the revelation that superstar Beyoncé Knowles in pregnant again. This time with twins.

The New Jersey high school attended by former New York City Mayor David Dinkins, playwright Ntozake Shange and hip-hop mogul Jay-Z received a new beginning as officials break ground for the new Trenton Central High School.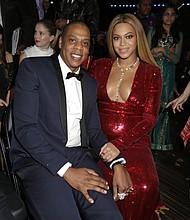 Create search alert for "Jay-Z"