For those who thought that because of the anti-Islamic atmosphere present in America the 83-year-old head of the Nation of Islam, the Hon. Minister Louis Farrakhan, would temper his remarks during his keynote address before thousands at the Joe Louis Arena in Detroit, Mich. on Feb. 19, you were wrong.

"The Honorable Elijah Muhammad taught me that there is a law in nature that whenever a people are deprived of that which God intends for that people to have, such as freedom, justice, equality of opportunity and equal membership in society; the longer the people are deprived, the greater the manifestation of the one who is born out of that longing from a simple woman to answer that need, that cry, that prayer of those deprived who long," said Minister Louis Farrakhan, leader of the Chicago-based, world renowned Nation of Islam.

Reportedly there wasn't an empty seat in Brookdale Hospital's auditorium Jan. 10 for the emergency meeting to discuss the state's health care overhaul report.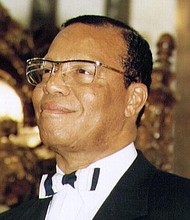 Create search alert for "Louis Farrakhan"