The monumental and original Million Woman March will celebrate its 20th anniversary with the launch of a new Global Movement for Women and Girls of African Descent worldwide.

A larger than expected group of marchers, led by the Rev. Al Sharpton, founder and president of the National Action Network, converged on Washington D.C. to protest the policies of President Donald J. Trump on Aug. 28.

Minister Louis Farrakhan's New York representative, Minister Abdul Hafeez Muhammad, added his voice to the growing crescendo of those rejecting President Trump's attack on NFL players who are following quarterback Colin Kaepernick's kneel protest against rampant police brutality in the United States.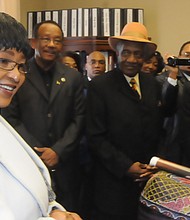 Create search alert for "Millions March"