Top banker never forgets to give back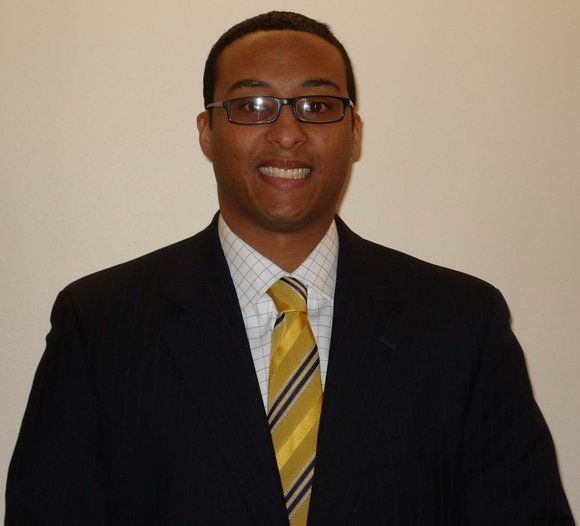 Recently named M&T Bank's top producer, Senior Business Banker Charon Darris is also on top of his game when it comes to being involved with youth in the community. He aims to be an example to young people, advocating that you don't have to be a product of your environment.
Proclaiming himself a "product of Harlem," Darris, 34, grew up in Esplanade Gardens. He attributes his parents' firm, but loving, support to pushing him toward his achievements. He attended Fordham Preparatory School in the Bronx, but wanted a different experience where he would feel normal. This led to his decision to go to the all-Black-male Morehouse College in Atlanta.
"Growing up in Harlem, particularly during the '80s through the early '90s, it was a difficult place to live," he said. "I wanted to have a different experience. I had gone there to visit and I just fell in love with Atlanta because it was just drastically different from the environment I grew up in."
A well-traveled individual, Darris traveled with the Semester at Sea program while at Morehouse, visiting nearly 10 countries including Japan, Egypt and Spain. The experience, he said, had an effect on him because he was able to see poverty in the world close up.
Darris graduated from Morehouse with honors in 1998 with a business degree in marketing. While in college, he was an Inroads intern for Chase Manhattan Bank. The program is noted for getting more people of color into the corporate world. He said he wanted a career in finance because he didn't grow up in wealthy family and saw the career path as a symbol for stability.
"I didn't know what I wanted to do related to that, but my impression was that working at bank would allow me to have that stability," he said.
Darris became a commercial bank client manager at Bank of America, working six years for the company. Getting several promotions, he went from being an analyst to vice president. His current position at M&T Bank as a senior business banker allows him to provide financing and cash management to small and mid-sized businesses.
Only seven months on the job at M&T, Darris earned the company's President's Club Award, becoming the company's top producer and one the top bankers in the nation. He was noted for his work with businesses and non-profits in Harlem.
While he's a star in the corporate world, he's also a winner in the eyes of many neighborhood youth. Darris serves as vice president of the board and former executive director of Achieving Leadership's Purpose, Inc. (ALP). The 35-year-old non-profit organization provides leadership development and training skills to high school students of color, preparing them for civic leadership and global awareness.
"I'm very young at heart," he said. "I think it's important that I make myself available as sign that you can make it and you can do well. Most of my life, I've really struggled and worked hard to get where I've gotten. I wanted my life to have meaning and impact."
Staying committed to his alma mater, Darris is active an active member of the Morehouse College Alumni Association. The alumni organization also runs youth programs in Harlem.
Darris said that he would like to move up the ladder at M&T Bank, do consulting for non-profits. Eventually, he also wants to start a family.