'Fela!' dazzled Broadway with brilliance, majesty, and "no artificiality"
Misani | 8/24/2011, 3:54 p.m.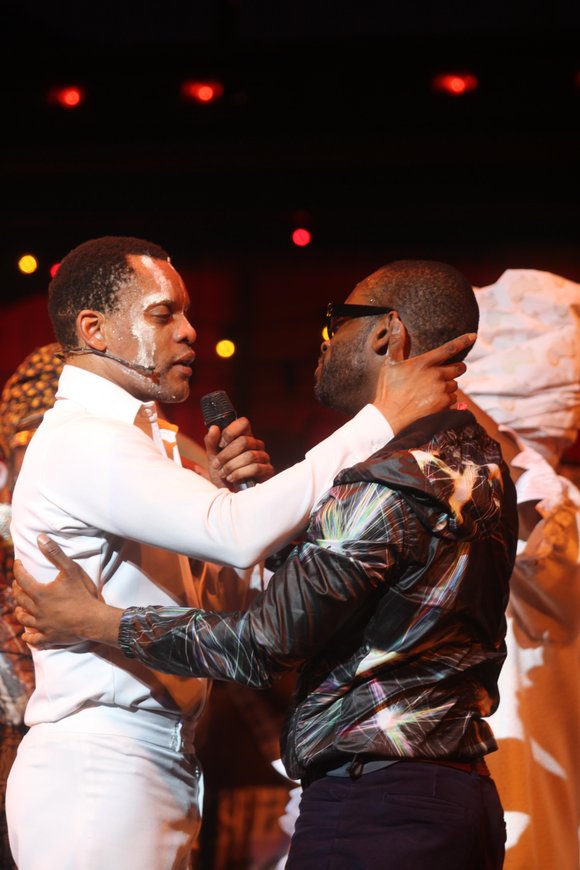 Will Broadway ever again experience the inextinguishable fire and sweet, soul-scorching passion of another fascinating, spectacular stage show like "Fela!," the hottest avant-garde musical in theatre history, which opened at the Eugene O'Neill Theatre on November 23 2009? Will proud African spirits ever again float freely across the Atlantic to comfortably house themselves at the Broadway house at 230 West 49th Street, as they have done for the past 14 months, to see themselves transfigured as majestic stars on the New York stage?
Will producers like Stephen and Ruth Hendel reach out, through music visionaries like ?uestlove, to partner with renowned African-American celebrities and businessmen and women such as Sean "Jay Z" Carter, Will Smith and Jada Pinkett Smith, to produce other tour-de-force productions that celebrate the Black Diaspora experience?
Will there ever be another show like "Fela!" that breaks through the barriers of assumed roles to touch, awaken and unify the souls of diverse theatergoers from around the world, filling them with joy, love, wonder, camaraderie and a sense of purpose to want to make a difference as part of a 21st Century movement of what it means to be human?
Will this type of history be made again? Only time will tell. However, on Sunday, January 2, 2011, all of this was royally manifest during the final grand performance of the world-acclaimed, universally-applauded, groundbreaking show of shows, "Fela!"
Directed by Bill T. Jones, the 2010 Kennedy Center honoree and two-time Tony Award winner, who also choreographed, co-conceived and co-wrote the book for the musical with Jim Lewis, "Fela!" scored three 2010 Tony Awards (of 11 nominations, all of which should have been bestowed upon the show but were not for complex, non-artistic reasons).
Based on the life of the legendary Nigerian afrobeat king Fela Anikulapo-Kuti, a renowned social justice activist who used music as a weapon to fight corruption and injustice in his country, the musical received the praises of Kuti's offspring, Femi, Yeni and Seun.
In addition, at Sunday's closing show New Yorkers were honored by the noble presence of Mr. Kuti's cousin, the distinguished African Nobel Laureate Mr. Wole Soyinka who commented: "This is the kind of show New York will never forget." His wife, Tolake Wole-Soyinka, heartily agreed, as did daughter Moremi Soyinka-Onijala, who said: "'Fela!' is awesome! It brings back very fond memories of Fela when he was alive and performing." Another daughter, Peyibomi Soyinka-Airewele shared: "I'm still a little stunned, I must confess. It is an exquisite performance. It captures so much of the energy and vibration Fela brought to our lives in Nigeria."
Everybody was in the house for the closing, from the great opera queen Jessye Norman, who commented: "It's one of the best I have ever seen! I've brought a lot of friends. This particular piece of theatre is like nothing that has ever been on Broadway." to the legendary model/actor Renauld White who has seen the play 3 times and was sad that the play was closing and that middle America would not get a chance to see it. Also present were filmmaker Spike Lee and his wife, Tonya Lee; attorney Earl "The Pearl" Monroe and his wife, Marita; manager and theatre producer Leon Denmark and his wife, actress Brenda, all of whom attended the after-performance soiree at Serafina.