W. Haywood Burns: A legal champion for civil and human rights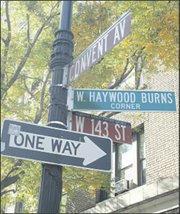 W. Haywood Burns was a legal warrior, fighting for the rights of Blacks and the underserved in the courtroom and inspiring legions of students in his classroom. The foundation that bears his name continues this tradition, inspiring new generations of young people to continue what he started.
Burns was born on June 15, 1940, in Peekskill, N.Y. He found what would be his calling at 15, when he successfully helped integrate a public swimming pool in his hometown. He was a brilliant student. Burns graduated from Harvard College with honors, and from Yale University Law School in 1966. During his time at Yale, he participated in the Freedom Summer of 1964 in Mississippi.
His first book, "The Voices of Negro Protest in America," was a research study he conducted on Black Muslims and was published in 1963.
After graduating from Yale, Burns joined a New York law firm but soon left to become the law clerk to judge Constance Baker Motley. He later became assistant counsel to the NAACP Legal Defense and Education Fund and served as general counsel to Dr. Martin Luther King Jr.'s Poor People's Campaign in 1968.
The following year, Burns helped found the National Conference of Black Lawyers at a time when there were fewer than 3,000 Black lawyers in the country. Little did Burns know he was to serve as the legal arm of the Black revolution; soon the group was representing the Black Panthers, those resisting the Vietnam War and student protesters at Cornell University.
Burns began teaching in 1974, becoming a visiting professor of law at the State University of New York at Buffalo. During this time he also coordinated the defense of 62 inmates at Attica Prison involved in the infamous riot of 1971, for which he laid the blame at the feet of then-Gov. Nelson Rockefeller, calling the event "a human tragedy that ranks in the annals of national disgrace with My Lai."
Burns had quite the full schedule, between his law practice and teaching a full load of students; in essence he held two full-time jobs, which he brilliantly performed on about four hours of sleep a night.
Burns was an associate law professor at New York University, the founding dean of the Urban Legal Studies Program at City College and vice provost and dean for urban and legal programs.
In 1987, he became dean of the Law School at Queens College, the first Black dean of a law school in New York. He was also a visiting scholar at Yale Law School. In addition, he continued to write for law journals and various other publications on the topics of race and affirmative action. Burns always used his legal talents to fight for human and civil rights.
He was also quick to speak out against people in power and openly opposed several candidates for the Supreme Court, including the nomination of judge Clarence Thomas. In a 1991 New York Times piece, he noted the similarities between his and Thomas' humble beginnings but also pointed out that he and Thomas had taken different directions. He called Thomas a "counterfeit hero."