Elliott Denman recipient of the Stan Saplin Award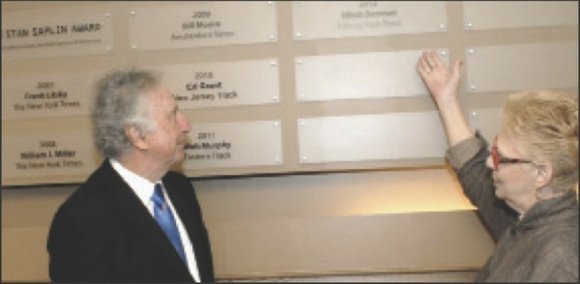 Elliott Denman, one of the country's top sports writers, was recently honored with the Stan Saplin Award by the New Balance Armory Foundation on an evening when the Armory Foundation was hosting the Eastern States championship track meet, as well as hosting Denman and his wife, Gail, who will soon be celebrating their 50th wedding anniversary.
Denman grew up in the Bronx, where he fell in love with race walking and began a career that took him around the world. In 1956, he was the second American to finish at the 1956 Melbourne Olympic Games. That same year he was the captain of the New York University track team, making history as the first IC4A winner in the Mile Walk at Madison Square Garden.
He competed wearing the colors of the New York Athletic Club as well as the New York Pioneer Club, but it was his devotion to the world of track and field as a journalist and an athlete that gained him worldwide acclaim among the leaders of the sport.
As he traveled around the world covering sports, especially track and field, and coaching at Monmouth University in New Jersey, Denman became a worldwide guru of the sport. We first met him at a track meet--where else?--and took note when one of the runners fell. Elliott was the first one to reach him; he consoled and encouraged him to stay with the sport.
The most admiring thing about Denman is his unwavering support of youth in low economic communities, where he could be found when not out an assignment or assisting officials at track meets, where, over the years, he not only wrote about the sport of track and field, but became a coach, an official and an all-around presence at track and field meets across the world.
We congratulate the Armory Foundation for their honoring of one decent human being.
Congrats, Elliott.