'Hill and Gully' brings in the New Year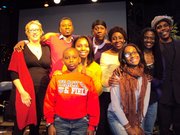 Geoffrey Holder, the Tony Award-winning director, calls them "decent people's children." They are the gifted, thoughtful visionaries who see that something needs to be done for the betterment of society and, on a whim and a prayer, proceed to make it happen.
Enter Patrice Johnson Chevannes, an award-winning Brooklyn-based filmmaker and actress, and her company, God-and-all-o-wee LLC and Ubigwitus Entertainment, producers of the film, "Hill and Gully" (2008, U.S.A., 117 min.), which recently enjoyed a special debut screening on Dec. 9 at the Irish Repertory Theatre in New York.
Described as "an urban Cinderella story, "Hill and Gully"--a popular Jamaican term that suggests the highs and lows of life--is set in Brooklyn, N.Y., in the summer of 2008 leading up to Barack Obama's historic election. The story, brilliantly written by Johnson Chevannes, revolves around three generations of African-American females of the same household. They are Eglantine Elizabeth Egglestein (Marjorie Johnson), an agoraphobe; Carin Shiquita Egglestein (Patrice Johnson Chevannes), her unhappy single-parent daughter who works as a waitress at the Hill and Gully Caribbean Restaurant; and Sara Sapphire Jenkins (Celeste Jacqueline Sena), Carin Shiquita's child who gets suspended from school because of anger issues.
All of these females have problems. Helping to sort them out is the school psychiatrist, Dr. Moses (Sidne Anderson), who challenges them to express their hearts' desires and pursue their dreams to better enable themselves to become all they were created to be.
In addition to the psychiatrist, who helps Carin Shiquita learn how to tackle her issues, she is also aided by Joia (Heather Simms), a life-movement instructor, as well as Marcia (Marcia Dennis), the owner of Hill and Gully restaurant. Consequently, she is able to better understand and deal with herself, her mother and her daughter.
She is also open for romance with the shy, nerdy photographer Caleb Foster (Teagle F. Bougere), who frequents the Hill and Gully restaurant, trying to strike up a conversation with the busy, cold, distant waitress who wishes she was more equipped professionally for a better job to support herself and her daughter. Like a true Cinderella story, each of the females finds what their soul has been searching for to transform them into the beautiful humans they were designed to be.
Johnson Chevannes bravely introduces several significant themes in "Hill and Gully." Among them are issues associated with mental health and mental illness--topics that are not openly spoken about in African-American and Caribbean-American communities. In addition, there are other subjects such as loneliness; the inability to be whole; women taking out their anger on their children because of unresolved issues with the child's father; the unhealthy cycle of teaching negative mores to the next generation; men stepping up to the plate and taking care of foster children; and Black women and negative concepts of beauty.
The characters in "Hill and Gully" are memorable, familiar people who are known in the Black community, a neighborhood the Jamaican-born Johnson Chevannes, who was raised in Brooklyn, knows well. As director, her casting choices for all the characters are watertight. Johnson hits all the right buttons in the heartbreaking role of the grandmother who has not left her home in 10 years because of her mental illness. Sena is terrific as the daughter with anger issues. The always fantastic Bougere is mesmeric in his touching role as Caleb, the smitten grown man who grew up in a foster home who has never been on a date because of fear and anxiety challenges.