Chinua Achebe: The father of African literature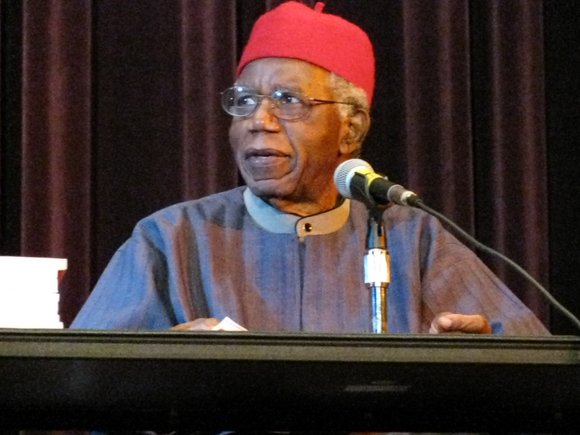 This celebrated Nigerian man of letters used the power of his literary pen as a weapon against colonialist idealism and Western bias.
Chinua Achebe was born Albert Chinualumogu Achebe on Nov. 16, 1930, in the Igbo town of Ogidi in southwestern Nigeria. He was a good student who loved the many stories told to him by his mother and sister. Storytelling was a vital part of the Igbo culture and these stories would later find their way into his writing. Stories, folk tales and oral tradition were key elements of his work.
In 1936, Achebe entered St. Philips Central School where he quickly excelled. The academically gifted Achebe would receive scholarships and attend the best schools. But it was at the Government College in Umuahia that he would see the cultural price. English was the language of the school and all students had to use it. The rule was strictly enforced. Achebe saw it as a way to pull students away from their mother tongue in deference to the language of the colonists. One of his first punishments was for speaking to another student in his native Igbo tongue.
In 1948, Nigeria opened its first university, known as the University of Ibadan. Achebe studied medicine, but after a year he switched to English, history and theology. While at the university, he wrote his first short story, "In a Village Church," which mixes details of rural life in Nigeria with Christian ideals.
Achebe became critical of European literature's interpretation of his African homeland. He criticized Joyce Cary's 1939 book "Mister Johnson," about a timid Nigerian protagonist who is shot and killed by his British master. While the faculty and the West hailed it as one of the best novels ever written about Africa, Achebe wrote that he and his classmates responded with "exasperation at this bumbling idiot of a character whom Joyce Cary and our teacher were so assiduously passing off as a poet when he was nothing but an embarrassing nitwit!"
In 1954, Achebe moved to Lagos to work for the Nigerian Broadcasting Service (NBS). He began working on what would become his seminal novel, "Things Fall Apart." The protagonist is Okonkwo, a yam farmer who lives through the colonization of Nigeria and is torn between his father's legacy and conflicts from the white missionaries who come to his village. Achebe sent the story to several publishers who immediately rejected it, claiming that fiction from African writers had no market potential.
After nearly losing his only handwritten manuscript to a typewriting company where he sent it to be set, the novel was published in1958. While praised outside of Nigeria, inside feelings were mixed. The book would become the most important and most widely-read piece of African literature. The work has been translated into 50 languages and has sold more than 10 million copies.
In 1961, Achebe married Christie Okoli, who he met at NBS. They had four children. Achebe published his children's book "Chike and the River" to combat the prejudiced view of African life presented by white teachers. The 1960s proved to be a prolific time for Achebe. He helped create the Voice of Nigeria network; the nation's first broadcast was on New Year's Day in 1962. He also became the general editor of the African Writers Series, which was a powerful force in bringing African literature to the rest of the world