Mayor Dinkins' life recalled in wit and humor
Herb Boyd | 10/3/2013, 3:47 p.m.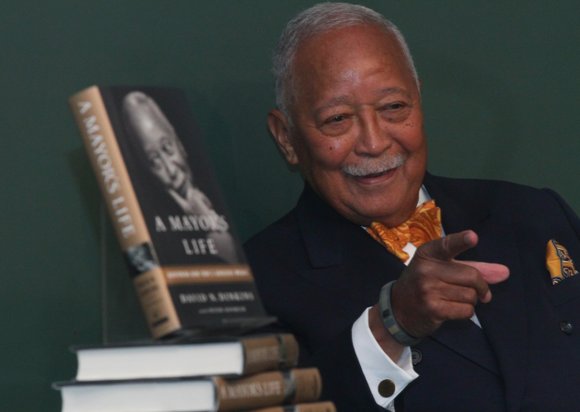 Indubitably, reviewers and many readers of the David N. Dinkins' memoir "A Mayor's Life: Governing New York's Gorgeous Mosaic," written with Peter Knobler, will be drawn to those major incidents in his political life: Gotham's first Black mayor; the Crown Heights riots; the Sonny Carson imbroglio; the Korean grocery store boycott; and his loss to Rudy Giuliani in 1993.
But to seek out his discussion singularly on these moments is to miss a remarkable success story, one that he relates with an interest of setting the record straight while taking the blame for some of his missteps. Scattered throughout the telling of this productive odyssey are a number of humorous anecdotes, and many of them will be familiar to anyone who has been in his company or listened closely to his public speeches.
There is the ditch-digging story or the one about the postal clerk who tossed mail into slots for delivery with the accuracy and proficiency of a Harlem Globetrotter and later confessed he would do even better once he learned to read. But Dinkins' coup de grace is his ditty about the man whose claim to fame was his survival of the Johnstown flood, and he carried this mark of distinction all the way to heaven and was prepared to spread it all over God's kingdom until an angel warned him that Noah was in the audience.
Aside from the periodic laughter is Dinkins's rise to the pinnacle of political power in Manhattan, and as he recounts this passage to Gracie Mansion, there is the bonus of learning about the political history of Harlem. From J. Raymond Jones, "The Harlem Fox," to the late Bill Lynch, who was instrumental in Dinkins' mayoral victory, Dinkins recounts the major movers and shakers. Obviously, there are his three lifelong buddies, the putative "Gang of Four"—Rep. Charles Rangel, attorney Basil Paterson and the late and incomparable Percy Sutton.
For someone who had been coaxed into politics by his father-in-law, Danny Burrows, Dinkins took to the realm as though it was his natural habitat, a calling that became evident as he moved ineluctably from assemblyman to deputy mayor, city clerk, borough of Manhattan president and finally to be the city's leader in 1989. The journey was not without its pitfalls, including an income tax problem that almost put an end to his promising career. Not having filed his income tax returns in three years forced him to relinquish his appointment as deputy mayor under Mayor Abe Beame. "I went from penthouse to outhouse, from sugar to s—t, in a New York minute," he lamented.
Essentially a pragmatist, Dinkins' impulse has always been diplomatic—how to reconcile New York's often maddening diversity—and this quest of peaceful resolution often came at the expense of being labeled too cautious, too indecisive. But even in the most troubling time of his tenure, the Crown Heights riots in Brooklyn, Dinkins recalls it with empathy for all sides and all victims.
"Of course I wish it never happened," he writes. "But I never did, nor will I start now, blame anyone else for what occurred on my watch. Most importantly, of greater moment than any discussion of police tactics or racial and religious politics, I want to honor the lives of Gavin Cato and Yankel Rosenbaum, two young people who died needlessly and far too soon. Their deaths were the true tragedy of Crown Heights."