Jazz vocalist Gloria Lynne dies at 83
Ron Scott | 10/24/2013, 5:07 p.m.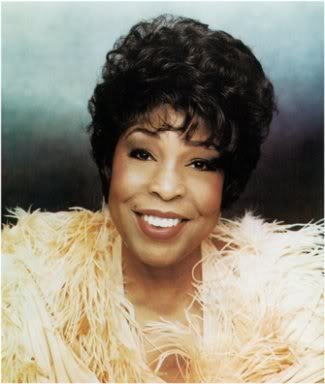 Jazz vocalist Gloria Lynne dies at 83
Gloria Lynne, one of the most profound jazz vocalists with distinctive soul dressings who had an intermittent career with such hits as her signature "I Wish You Love," died on Oct. 15 at Columbus Hospital in Newark, N.J., as confirmed by her son, P.J. Allen.
The cause of death was heart failure. Lynne lived in East Orange, N.J. She was 83.
Although she wasn't in great health, Lynne performed a most memorable concert in August at Manhattan's 54 Below hosted by WBGO; this was her last live show. Todd Barkin, who produced this show and her last CD, "From My Heart to Yours" (High Note Records, 2007), stated, "I think Gloria was one of the great angels of American song. Despite the fact that she struggled in relative obscurity for nearly the reminder of her life, she maintained a relentless positive outlook and practice on life. She never received the compensation or recognition that she deserved."
On May 6, 2008, Lynne was presented with a special award for "Outstanding Achievement in Jazz" at the New York MAC Awards, and on Oct. 22, 2010, she was honored at Harlem's Schomburg Center for Research in Black Culture by Great Women in Music (founded by Roz Nixon) for her many contributions to the world of music.
New York City proclaimed July 25, 1995, as "Gloria Lynne Day." In 1996, Lynne received the International Women of Jazz Award and was honored with a Pioneer Award by the Rhythm and Blues Foundation in 1997. Other awards and recognitions include the National Treasure Award from the Seasoned Citizens Theatre Company (2003); induction into the National Black Sports and Entertainment Hall of Fame; and the Living Legend Award from the State of Pennsylvania (2007).
Gloria Mia Wilson was born in Harlem on Nov. 23, 1929, to John and Mary Wilson. Her father was a longshoreman, and her mother was a gospel singer. Influenced by her mother, she began singing in the church choir at an early age.
Being raised in Harlem, Lynne was familiar with the Apollo Theater. At age 15, she lied about her age in order to participate in the Amateur Night contest, and she won. Her mother was upset that she didn't tell the truth about her age.
During the early days of her career, she performed with Billy Eckstine, Ray Charles, Johnny Mathis and Harry "Sweets" Edison and toured with Ella Fitzgerald.
Upon marrying Henry Alleyne, she began using her married name that was eventually shortened to Lynne, which she used as her stage name.
She signed to Everest Records in 1958. In 1964, she had a big hit with "I Wish You Love" (accompanists included Hank Jones and Kenny Burrell), which elevated her status as a singer of great quality. This song became her signature, but "I'm Glad There is You," the title song from the album with the Earl May Trio, and "Love I Found You" are favorites around the world that fans never tired of hearing her perform. She later recorded a host of albums, including "Soul Serenade," "Love and a Woman" and "Where It's At."