Death in Police Custody: Kyam Livingston's family demands answers
Eulene Inniss and Khorri Atkinson | 9/26/2013, 11:25 a.m.
According to her family, it was the purely insensitive mindset of the NYPD that may have caused the death of 37-year-old Kyam Livingston in a Brooklyn Central Booking cell on July 21.
Anita Neal mourned for her daughter, who was arrested on July 20.
"I need justice for my daugher," the weeping Neal exclaimed, as her uncontrollable emotion punctuated an eerie of silence at a rally and march at the intersection of Church Avenue and 18th street on Saturday. Passerbys stared and motorists looked through their windows to see what was happening. "I will not give up. We need the names of the officers who were involved," she said.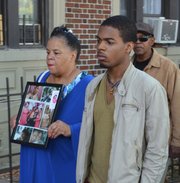 The gut-wrenching, blood-curdling wail of a mother, a sign of the effects of death and pain, pierced the core of every human soul and filled the air around the courthouse at 120 Schermerhorn St., as family, friends and clergy held a vigil on Aug. 22, and again in the Flatbush community on Saturday afternoon, to mark the one- and two-month anniversaries of Livingston's death. Her enraged family members are demanding answers about her death from Police Commissioner Ray Kelly and Brooklyn District Attorney Charles Hynes.
Livingston was arrested for violating an order of protection granted to her 78-year-old grandmother, Theresa Johnson. Johnson said that her granddaughter lived with her in Windsor Terrace and had been drinking when she turned violent and began breaking furniture. Johnson called the cops. Livingston was taken into custody, processed and taken to Central Booking. But no charges were filed against her. While there, Livingston became ill with stomach pains, diarrhea and eventual convulsions over a seven-hour period. Reportedly, cell mates pleaded for hours with the NYPD for someone to come to her aid. Aleah Holland, an inmate who was in a cell with Livingston, told the Daily News that Livingston was crying about stomach pains and diarrhea and asked the officers for hours to allow her to get medical attention."They said, 'Shut up before we lose your paperwork and you won't be seen by a judge," Holland said.
The victim was reportedly dead for 20 minutes before the medical personnel arrived the morning of July 21. However, NYPD officials claimed that Livingston was pronounced dead at Brooklyn Hospital Center.
Livingston was working as a security guard at Elite Investigations, an investigative security and protection agency, according to an identification card her mother had at the rally.
As family members continue to demand answers, Livingston's 21-year-old son, Alex Livingston, says he had a "friendship relationship" with his mother, and has no choice other than to be strong for his family.
"I'm the only one that is stable. I'm just trying to control myself emotionally and keep it together for everyone, including myself," he said. "I know there will be justice. We will do everything that is needed to make it happen."
Livingston's family has now launched a petition calling for:
The release of a video surveillance footage of the environs during the time she was in police custody
The immediate release of the names of the officers and cell attendants that were on duty at the time of her death
The criminal prosecution of the officers who denied Kyam's called for medical attention
A complete and thorough investigation of the New York City Central Bookings system and the conditions in its holding cells.