Arrested CUNY 6 spark debate and continued protest against Gen. Petraeus
Amity Paye | 9/26/2013, 2:15 p.m.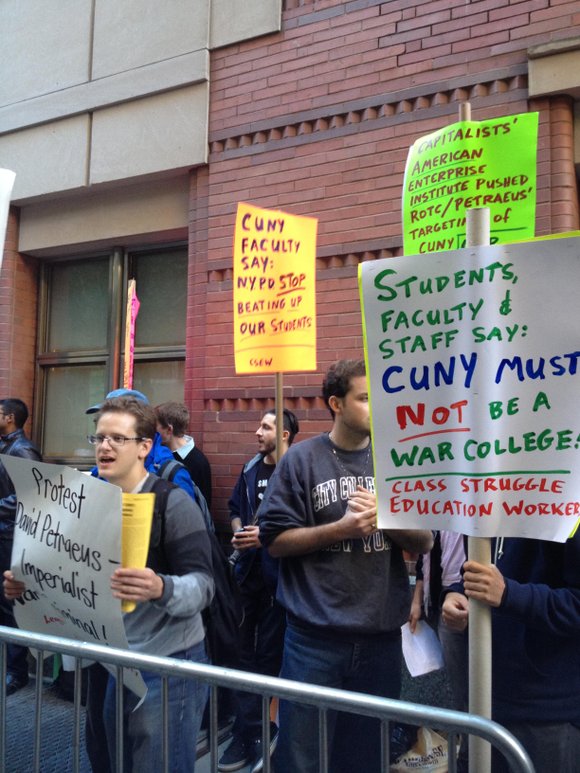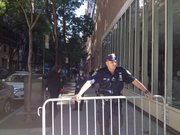 On Tuesday, CUNY's Macaulay Honors College was locked down tight. As protestors across the street from the college chanted, "CUNY faculty say, 'Hands off our students'" and "Petraeus out of CUNY," more than 20 police officers stood guard outside the college and triple-barricaded the sidewalk in front of the school. All four corners of the street, West 67th Street between Columbus and Central Park West, were also barricaded with stationed officers preventing passersby from entering the block.
"We're letting protestors pass, but no one else," said Officer Leonardo, who was setting off a corner of the block with a barricade. "We can't have a volatile situation with 1,000 people protesting on the street."
The heavily policed and protected scene, a response to protests against Gen. David Petraeus teaching a class at CUNY, is a stark reminder of what many students and faculty at CUNY are now calling a "war college."
Last week, outside Petraeus' 3 p.m. Monday class, during which he covers "history and trends in diverse public policy topics," according to the school's website, six protestors were violently arrested by police. The six were members of the Ad Hoc Committee Against the Militarization of CUNY, a group of CUNY students, teachers and supporters organizing primarily against the reinstatement of ROTC at some CUNY campuses and the hiring of Petraeus, former director of the CIA.
"It was unprovoked and premeditated targeting," said Tafadar Sourov, a member of the Ad Hoc Committee and the Revolutionary Student Coordinating Committee. "In the beginning, when tensions began, protestors were on the sidewalk and cops brought barricades squeezing people together to the point where there is no choice but for people to saturate on the sidewalks." It was when protestors walked into the street that the arrests began.
One YouTube video of the Sept. 16 arrests shows a plainclothes officer punching an already subdued and handcuffed protestor. Another video shows police pushing and punching a man, presumably attempting to arrest him, while he has his hands up in the air in submission.
Protestors report that secret service and FBI agents participated in the Sept. 16 arrests and say one police officer pulled his gun on protestors during the arrests and that another officer followed and recorded the protestors for many blocks as they left the protest.
But Denise Ford, one of the CUNY six and a member of the Ad Hoc Committee, said, "Hopefully, people will ask, 'What did we get arrested for?,' bringing that back around to Petraeus being here and the whole militarization of CUNY."
After the six arrests, four of whom were CUNY students, the CUNY community has begun to do just that: Look at the reasons why its students are protesting against their own institution.
"By nature, universities nurture the reasoned expression of dissent, including the right of peaceful protest. CUNY has long embraced the responsibility to encourage debate and dialogue," wrote CUNY's interm Chancellor William P. Kelly in a statement. "Foreclosing the right of a faculty member to teach and the opportunity of students to learn is antithetical to that tradition, corrosive of the values at the heart of the academic enterprise. We defend free speech, and we reject the disruption of the free exchange of ideas. Accordingly, CUNY will continue to ensure that Dr. Petraeus is able to teach without harassment or obstruction."