Harlem Repertory Theatre offers fantastic double bill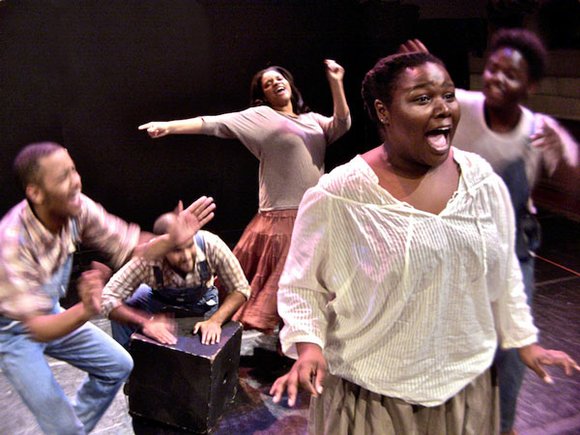 If you enjoy marvelous theater performed in an intimate setting, then you must make plans to go to see Harlem Repertory Theatre at the 133th Street Arts Center. The theater company, which was founded by Keith Lee Grant (who also directs and choreographs the productions), is currently performing two one-act plays by the same playwrights—in this case, E.Y. Harburg and Fred Saidy—back-to-back. The productions are "Finian's Rainbow" and "Flahooley."
"Finian's Rainbow" I was familiar with, having seen other productions in the past, but this is a "Finian's Rainbow" like you've never experienced before, because Grant takes color-blind casting to the extreme—and it works! In fact, the casting in both productions should serve as a shining example to casting directors that actors of color can play any role that is normally portrayed by white actors. I also enjoyed his decision to make couples interracial.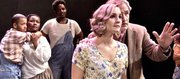 One of the really amazing things about seeing a performance at the 60-seat theater is that at times, the actors are literally right next to you. Depending on where you're sitting, they may even shake your hand or cozy up next to you. What's also great about what Grant is doing is that he allows the performers of the Harlem Repertory Theatre to display their versatility, as cast members play multiple roles in the productions. The musicals truly prove to be marvelous outlets for these actors to demonstrate their talents. Grant is also fair about allowing actors to trade-off on starring roles in the productions.
These musicals are something that you have to experience for yourself. "Finian's Rainbow" is delightful and amusing, while "Flahooley" is nostalgic and laugh-out-loud funny. It is fantastic to see a classical musical from the 1940s-1960s performed today and updated with a few new musical moments.
The cast, which performs beautifully for both productions, includes Roberto Guzman, Jasmine Holloway, Eric Myles, Janine Rainteau, Kyria Geneva, Derrick Montalvo, Daniel Coles, Marcus Barjon, Francisco Gregory, Aili Venho and Daniel Fergus Tamulonis.
Venho and Guzman are adorable as the lovers in "Finian's Rainbow." Tamulonis is endearing as Finian, an Irishman who's a dreamer who believes in pots of gold, wishes and rainbows. Everything about this production flows smoothly. "Flahooley" has Guzman in a romantic role again, but this time, he's a geek, and it works. In "Flahooley," his character's love is Holloway's character, and both actors give touching and funny performances. "Flahooley" is such a joy to watch.
One cast member who I must mention is Myles, who is not only incredibly versatile, but also hilarious. In "Flahooley," he plays a genie from a lamp, and he truly works that role. He has attitude, he flips a long ponytail and he dishes up the laughs like you wouldn't believe. Myles is a powerhouse when it comes to stage presence, especially when he is given the opportunity to shine. He also choreographed the hip-hop dance number in the musical, which is incredible.
Tamulonis, in addition to performing in the musicals, created the engaging puppets that are used in both productions.
You must go and see these shows; you'll be glad you did. The productions are playing for only two more weekends, Jan. 25 and Feb. 1. For more information, visit www.harlemrepertorytheatre.com. Start this year off in an intimate theater, with a delightful cast, laughs and fun!