Politics is in Alphonso David's blood whether he likes it or not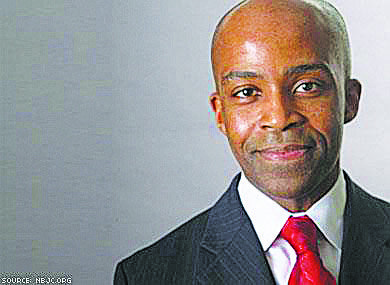 Alphonso David, deputy secretary for civil rights in New York, found himself surrounded by politics at a young age. He was born in Silver Springs, Md., in 1970, and his family moved to Monrovia, Liberia, when he was only a 1-year-old.
"My father ran for office and became the mayor in 1977," David told the AmNews.
At the time, David's great-uncle William Tolbert was Liberia's president, and his mother worked in the country's Department of Finance, but that would all change when David turned 10.
"In 1980, there was a military coup," David told the AmNews, "and my father was incarcerated for about 18 months because he was mayor of the city. My uncle was assassinated. We lived under house arrest for 18 months and stayed in Liberia for two to three years after the war."
Once his father was released from prison, he immediately sought political asylum in the United States. Because David was technically an American citizen due to his birth here, asylum was granted. "My father, my other brother, my sister and me came to the U.S.," he said. "My youngest sister and mother stayed in Liberia for another two years.
"My interest in the law is fairly self-evident," David continued, "in part because of the war and understanding democracy and understanding how things work. My interest in the law was sparked."
Practicing law wasn't exactly his father's wish. According to David, if his father had his way, he would have been a physician with an Oxford University education. But Temple University Law School called him. Still, law isn't necessarily politics, and it took a while for David to jump over to the "dark side."
"I avoided politics for a very long time in part because my father was a politician, and I understand the sacrifices you have to make when you are engaged in politics," David said. "Your personal life is usually fodder for the public, so I was not really interested in getting involved in politics."
His first job out of law school involved working as a federal clerk for Clifford Scott Green, an African-American judge who's well known for issuing a decision finding racial discrimination in the Philadelphia Police Department. From there, David took a job at a law firm in Philadelphia engaging in civil litigation and eventually moved to California to work as corporate counsel. Having had the itch to get involved in civil rights law for most of his life, he was finally inspired by a landmark case.
"While I was in California, the Supreme Court issued their decision in Lawrence v. Texas, which was a watershed case for a lot of people in the U.S. that concluded that the Texas law criminalizing same-sex sexual activity was unconstitutional.
"I had been interested in practicing civil rights litigation for a very long time, and I decided that I didn't have the resources," David continued. He eventually accepted a job at Lamba Legal working on lesbian, gay, bisexual and transgender-centered cases around the country involving issues like HIV, employment and housing accommodations. "Then I joined the government in 2007 at the Division for Human Rights as a special advisor," he said. "After about a year, I joined then Attorney General [Andrew] Cuomo and served as bureau chief for civil rights prosecuting cases all over the state. Cuomo subsequently asked me to join him when he became governor and I accepted."