'Get on Up' gets it right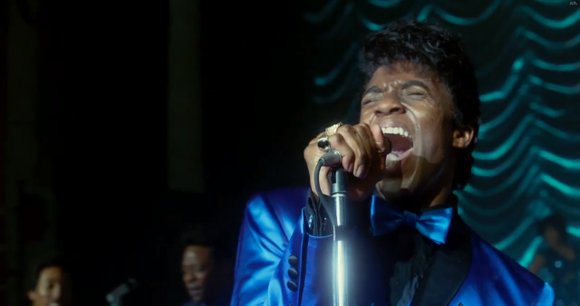 "Get on Up" is an excellent peek inside the fascinating life of the undeniably brilliant funk-soul legend, James Brown, a complex man who displayed as many quirky personalities and personas as he did colorful nicknames and honorary titles.
Unlike most recent biopics of Black historical and cultural figures ("Mandela," "Lee Daniels' the Butler"), "Get on Up" doesn't make polite conversation in an effort to not offend white audiences. It states the facts and brings the funk, over and over again.
Directed with cinematic dexterity by Tate Taylor, whose previous film "The Help" brought in a solid $169 million and a slew of nominations, "Get on Up," is as flawless as its star, Chadwick Boseman, who plays Brown from age 16 to 60.
Last year, Boseman portrayed the great Jackie Robinson in "42," but what he accomplishes in this film is nothing short of remarkable. It's not just that he brings electricity to Brown's signature dance moves—the ones where it seemed as if the spirits, indeed, inhabited his body. It's that Boseman dives deep into Brown's aching and tortured soul. He does this so smoothly that his performance never gives a whiff of mimicry. He feels Brown from the inside out; so we feel Brown from the inside out.
Taylor has a flair for storytelling, a trait many Southerners share, and he starts the film with a comically highlighted depiction of Brown's 1988 arrest after a high-speed police chase. The film does a sweet nod to action, balanced with comedy, especially in the scene of Brown arriving (in 1968) for a concert in Vietnam's hotbed of enemy action. The scene is reminiscent of the classic "Apocalypse Now."
Exploring Brown's early years in the South Carolina backwoods, we see his journey as an only child of an abusive laborer father (Lennie James) and a mother (Viola Davis) who eventually abandons him for a life of prostitution. Brown was raised in Georgia by a paternal aunt known as Honey, played here by "The Help" Oscar-winner Octavia Spencer.
Thankfully, this is not the boring, standard, chronological biopic convention. The script is penned by British playwright Jez Butterworth ("Jerusalem") and his brother, John-Henry.
These strong storytellers sweetly splinter the narrative into a series of nonlinear frames, skipping across Brown's life in an ethereal glide across time. One second it's 1930, and then the film is blasted to 1964, and Brown—then the lead singer of the Famous Flames—is upstaging the (then unknown) Rolling Stones at the recording of the seminal concert film, "The T.A.M.I. Show." Then, it's back to 1949, and the teenage Brown's pivotal and life-changing arrest on petty theft charges.
This technique, of jumping time, lets Brown tell his story, and character's occasionally direct commentary to the camera. The structure gives the film the freedom to bypass phony and interminable melodrama territory.
One of Brown's many nicknames was "The Hardest Working Man in Show Business," and the film journeys with him into the recording booths, rehearsal studios and main stages of the world. His drive for perfection and his paranoia (he detested being upstaged) is displayed with brutal honesty. Tyrannical behavior aside, Brown was a musical innovator who wisely surrounded himself with a small army of talented sidemen, including Pee Wee Ellis, Maceo Parker and Fred Wesley.
Director Taylor gets the music right and, working with, Mick Jagger, one of the film's producers, has compiled more than two dozen of Brown's live and studio recordings, remixed from the original tracks. Present are the funky guitar licks and staccato "Gabriel Can You Hear Me?" horn blasts that have rarely sounded better. The breathtaking re-creations of Brown's historic concerts (at the Apollo, the Boston Garden in 1968, just after the assassination of Martin Luther King Jr., and the Paris Olympia) are first rate in every way.
Taylor never shies away from Brown's messy life, including the neglected wives (played by Jacinte Blankenship and Jill Scott), domestic violence and drug abuse. His long-term and rocky relationship with Bobby Byrd (Nelsan Ellis, "True Blood"), the singer-songwriter whose family took in the teenage Brown after his parole and who remained at Brown's side until the early 1970s, are some of the best parts of the film. Their delicate codependency is what makes "Get on Up" so authentic and moving. Ellis delivers a balanced performance with grace and goes toe-to-toe with the great Chadwick Boseman.
"Get on Up" opens Aug. 1.