Paris Blues at 45
Ron Scott | 11/13/2014, 4:36 p.m.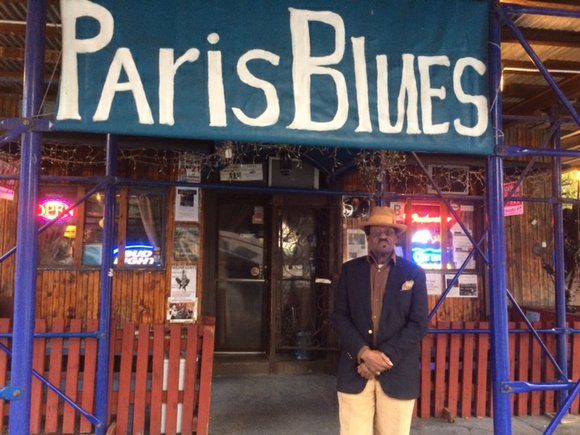 The neighborhood bar in Harlem has become little more than a memory only cherished by the community's elders. During its heyday, it was a place where seniors hung out and reminisced, where hustlers stood around rapping about their latest conquests as the jukebox blasted a James Brown tune and folks came in constantly for a quick drink and to check the winning number for the day. (Today it's called the lotto, and it's legal like alcohol.)
Despite gentrification and technology, the little, homey community bar, Paris Blues, continues to flourish. This weekend, Nov. 15 and 16, owner Samuel "Sam" Hargress Jr. will celebrate his 45th anniversary in the same location at 2021 Adam Clayton Powell Jr. Blvd., also known as Seventh Avenue, when he opened Nov. 15, 1969, after securing his liquor license.
There will be a special celebration Sunday, Nov. 16, 9 p.m. to 1 a.m., the "Paris Blues All Stars Jam," hosted by vocalist Okaru Lovelace and Melvin Vines with the Harlem Jazz Machine.
Hargress noted, "Okaru and Melvin are good entertainers and know how to connect with the audience." Paris Blues offers live jazz every night with complimentary food (peas and rice and barbecue chicken) and no cover charge. "Since we don't have a kitchen, we started serving food years ago to keep up with the competition," said Hargress. "We had our jukebox computerized so customers can download any tune."
While the outside of the building has been draped in scaffolding for almost a year, Hargress says it has not hurt his business, although he will be happy when it is removed in a few months.
We sat at a booth under a custom-made wooden top covered with photos that he collects from customers who often bring in photographs taken in the bar and of musicians. "I have a picture of Rosa Parks, and Wycliffe Gordon. He lives on the block and stops in occasionally," said Hargress. "I knew him when he was a young man before he became famous."
The 78-year-old owner stated he changed the booth seats on the left but retained the original mahogany bar. The bar on this Saturday afternoon was filled with customers in conversation and watching college football on the big screen. The wall near the small stage is lined with awards and proclamations from people such as Rep. Charles B. Rangel, City Councilwoman Inez Dickens and state Sen. Bill Perkins.
At times, we were politely interrupted by workers checking in with him on certain matters and customers wanting to let him know they were leaving.
Paris Blues is reflective of the earlier television series "Cheers" with a theme song whose lyrics included, "Sometimes you just want to go where everybody knows your name/ and they are always glad you came." These customers are friends, not just folks who come to purchase drinks.
Hargress' longevity and success are the result of hard work. "I work seven days per week and open the bar up every day," he said. "My motto from the Army is 'a winner never quits.'"