Gary Keys, a force in documentary films, dies at 81
Ron Scott | 8/27/2015, 12:59 p.m.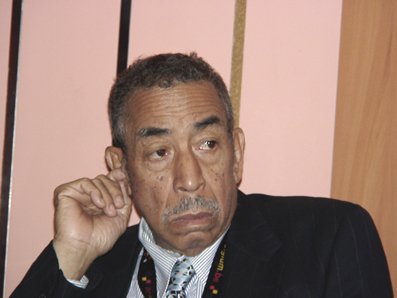 Gary Keys, the producer, writer and director who brought history and a lively perspective to his many popular documentaries on Count Basie and Duke Ellington, died Aug. 9 in Manhattan. He was 81.
Keys, a devout jazz enthusiast, made critically acclaimed film documentaries such as "Gospel: Good Times Sunday" and "42nd Street: River to River," which documented the history of the Theater District between First and 12th avenues. One of his most important films was "Trying to Kill Giants: A 20th Century American Story," which dealt with racism in America as it related to the unforgettable experiences of Jack Johnson, Paul Robeson and Muhammad Ali.
To show his commitment to health awareness issues, he made the film "Autism: Another Way of Communicating" (2007). Keys was nominated for a Daytime Emmy Award in 1976 for his children's special "The CBS Festival of Lively Arts for Young People: The Original Rompin' Stompin' Hot and Heavy, Cool and Groove All Star Jazz Show." In 2008, Keys was presented with the African Vision Award for Lifetime Achievement by Afolabi Adesanya, president of the Nigerian Film Corporation.
Keys, a Duke Ellington historian, produced and filmed the legendary bandleader's tour of Mexico during the Mexican Olympics in 1968. It was Keys who organized the tour for Ellington and made the film "Mexican Suite" (1970). In 1980, he made "Memories of Duke," which premiered at the annual Starz Denver Film Festival. Both films chronicled Ellington's tour of Mexico.
For two years, Keys worked with his producer and film editor Emily Morse to create a film about the legendary Drinkard Singers, the large family of vocalists that included Dionne Warwick, Sissy Houston and Whitney Houston, who became an integral part of America's musical legacy. Keys eventually released the film under the title "The Wonderful Family of Divas (Whitney Houston & Her Family: Voices of Love)" in 2011.
While teaching at Columbia University, Keys realized he needed more time to work on his own projects. The administration responded with an offer for him to teach a master class that wouldn't dominate all his time. This position also offered him an opportunity to teach a film class in Havana, Cuba, where he made his 80-minute documentary "Cuba: Island of Music," which he started in 2004.
During an interview with Eugene Holley Jr., Keys explained, "In live music, there's the performer, the audience and that thing that happens between them. Now, you can't duplicate that [interaction] on film because you're separated. You have to bring the image closer, like you're there in the saxophone section playing music, like you're a participant."
It was his job as an advertising account executive that lured him into filmmaking. He wanted to bring life experiences to the screen, but he realized he would need more than the two or three minutes used in filming a commercial. During those days, he was never without his movie camera.
The native of Detroit, born Feb. 12, 1934, became entrenched in the music business early in the 1960s. He began the first jazz and pop concerts at Lincoln Center and Carnegie Hall featuring the Supremes, Stevie Wonder, Hugh Masekela, Simon and Garfunkel and Dizzy Gillespie. He toured with Ray Charles in Israel and Stan Getz in Latin America.