Black ballerinas reflect on Misty Copeland's historic 'Swan Lake' debut
Zita Allen | 7/2/2015, 11:12 a.m.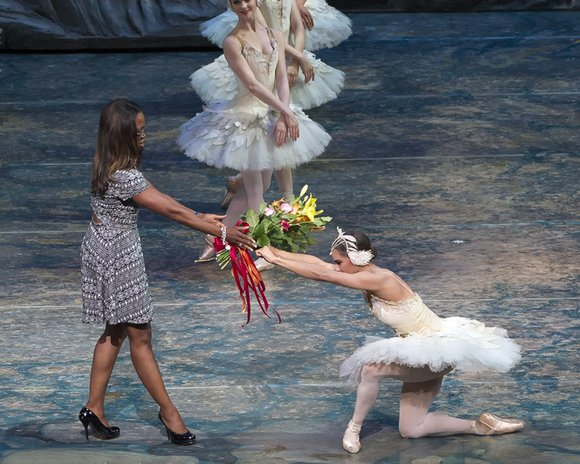 As the opening strains of Tchaikovsky's "Swan Lake" filled the sold-out Metropolitan Opera House, a dancer in white flitted across the dimly lit stage, with its backdrop of a shimmering blue lake, and disappeared.
The ballet was just beginning, but the thunderous applause that greeted the fleeting vision of ballerina Misty Copeland revealed that the audience knew this occasion was no ordinary performance. A few days later, American Ballet Theater announced that Copeland has been promoted to the highest rank of principal, making her the first African-American female principal dancer in its 75-year history. For her many fans, by the time the curtain fell on the final act of "Swan Lake" and the audience leapt to their feet with a standing ovation, it was clear, even before the rave reviews and ABT's magnificent announcement, Copeland's debut was a phenomenal success.
The impact of Copeland's "Swan Lake" was underscored by the presentation of two bouquets by ballerinas whose careers helped pave the way for this historic moment. They were 80-year-old Raven Wilkinson, a former soloist in the 1950s with the Ballet Russe de Monte Carlo and the National Ballet of Holland, and Lauren Anderson, who in the 1990s was the first Black principal ballerina with the Houston Ballet and broke ground as the first Black woman to perform the lead in a full production of "Swan Lake."
Wilkerson glowed when she spoke of Copeland. "Misty is such an exquisite dancer," she said. "When she stepped into fifth position on pointe in 'Swan Lake,' I felt I was dancing along with her. Before the debut, I left her a phone message: 'May my love and admiration be the wind at your back.'"
Wilkinson recalled her own history with the American-based Ballet Russe de Monte Carlo, where she was a student at the school before being accepted into the company after three auditions. "At one point, someone took me aside and said, 'You know there's really no way they can take you,'" she revealed. "You see, the Deep South was a key part of its touring circuit. A Black ballerina would have meant lost bookings or worse."
Still, Wilkerson persisted and was eventually accepted. The company decided not to publicize the fact that light-skinned Wilkinson was Black, even when she insisted that if asked, she could not lie. Word leaked out anyway, and in one Southern town, some white men barged into rehearsal, demanding to know where "the nigger" was. Wilkinson wasn't there at the time, but Cuban-born Alicia Alonzo (later founder of the National Ballet de Cuba) once told this writer they confronted her, asking if she was the one they were looking for. Eventually, the men left.
Wilkinson would later leave Ballet Russe de Monte Carlo to dance with the National Ballet of Holland.
To Copeland's credit, she makes a point of paying homage to her predecessors. All too often, theirs are stories of dreams deferred, hearts broken, bodies criticized and psyches scarred by the long-held, ignorant notions about Blacks and ballet, especially for women. Once in a while closed doors opened, usually for males because they were so scarce.