Welcome to Belize!
LYSA ALLMAN-BALDWIN | 7/9/2015, 12:48 p.m.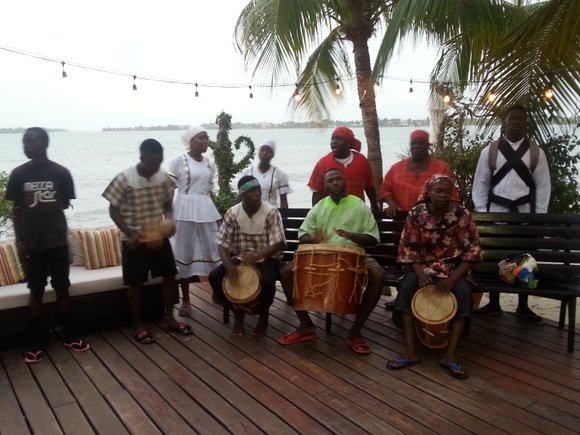 Tropical rainforests, Mayan ruins and temples, stunning beaches, picturesque mountains and a rich history and culture. This is only the beginning of what you'll experience in Belize.
Located in Central America, Belize is approximately four hours from both New York City and Detroit, six hours from Seattle, five hours from Los Angeles, three hours from Dallas and two hours from Miami.
Many people believe Belize to be an island, however it is a Central American country bordered by Mexico to the north, Guatemala to the south and west and the Caribbean Sea to the east. This mistaken impression is understandable though, given that one of the biggest draws to Belize is for its hundreds of "cayes" (islands, pronounced "keys") dotted along a spectacular Barrier Reef, the second largest (behind Australia's) in the world.
Once here, you will find that and so much more, as Belize is home to some of the greatest historical, cultural and ecological diversity in the world.
IN THE BEGINNING
The earliest inhabitants in this area were the Mayans, who were believed to have come here around 1000 B.C., thriving for a millennium in an extensive, very advanced and sophisticated civilization of perhaps more than 2 million people. Even today, Belize is home to one of the largest concentrations of Mayan temples and underground ritual chambers, including Cahal Pech, Xunantunich, Lamanai, Lubaantun and Nim Li Punit, just to name a few.
Sometime around 1502, the first European, Christopher Columbus, landed on its shores, with a new settlement following in the mid-1600s.
One of the major cultural influences here is that of the Garifuna people. Around 1796, after losing their fight for independence from French and British forces attempting to colonize their native land in the Lesser Antilles (located in the Caribbean Sea generally from the Virgin Islands to Trinidad and from Margarita to Aruba), the Garifuna were brought to the islands off Northern Honduras. However, unlike Africans who came to the Americas as slaves, they were set free. Many of them migrated, establishing new communities along the coasts of Nicaragua, Honduras, Guatemala and Belize.
Their language, dance and music remains one of the world's most influential cultures, including official recognition by the United Nations Educational, Scientific and Cultural Organization, and their official arrival in Belize is celebrated every Nov. 19 as Garifuna Settlement Day.
When the British staked their claim here in 1840, Belize became a colony of British Honduras, remaining that way until 1964, when it attained its own self-governing status, followed by an official name change to Belize in 1973, and full independence in 1981.
Other ethnic groups settling in Belize in the decades to follow have resulted in the uniquely diverse population that you find today—a vibrant fusion of Maya, Mestizo, Kriol/Creole, Garifuna, East Indian, Mennonite, Arab and Chinese.
THIS IS BELIZE
Belize is approximately the size of Massachusetts and has one of the lowest population densities in the world, with close to 350,000 denizens spread out over 8,868 square miles. The country is divided into eight major cities: Belmopan (the capital), Belize, Corozal, Benque Viejo del Carmen, San Ignacio, San Pedro, Orange Walk and Dangrigia.