In Belize, paradise found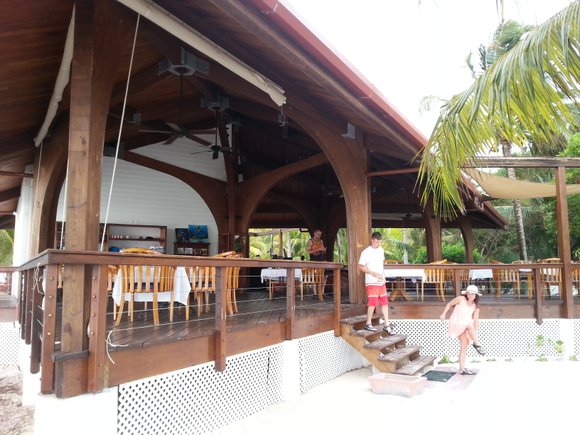 By LYSA ALLMAN-BALDWIN
I'm not going to lie: The voyage to this Belizean island paradise 18 miles off the mainland is not for sissies. It can be a bit choppy and windy and you'll probably get wet.
But during the hour-long ride, you'll be mesmerized by the numerous picturesque cayes, some large enough to accommodate several homes and other structures, while others held only a single palm tree and a small spot of sand.
Then suddenly it appears—our home for the next several days—the private island of Hatchet Caye.
Located on the protected side of the Meso-American reef, the second longest in the world (behind Australia's Great Barrier Reef), the island encompasses only seven and a half acres, with spectacular views everywhere you look.
The resort offers an ultra-casual, remote, uncharted territory, off-the-grid island life vacation, but with comfortable accommodations, great amenities and Wi-Fi. And there are a lot of "nos" here: no roads, no vehicles, no phones, no front desk, no need to lock your doors and no worries. And although I'd been told to never to take "no" for an answer, it's actually everything I wanted to hear.
Its boutique size and maximum 38-guest capacity is one of the major draws here, which, in the only four years it has been open, has attracted visitors from North America, Europe and other parts of Central America and commanded an astounding 46 percent repeat guest relationship, each visitor forming a lasting bond with the 25 staff members who, except for the couple who own the resort and their young daughter, live here 24/7 for three weeks at a time. It's something very different than what you find on a mainland resort, yet it creates a truly authentic, loving, family ambience.
There is one honeymoon cabana with a king-size bed and six duplex cabanas with one or two queen-size beds, all with a quaint living room area, including a TV and DVD player, air conditioning and ceiling fans, multiple windows on two sides facing the gorgeous oceanfront views, a private deck with oversize cushioned furniture and a table and a hammock and/or cushioned chaise lounge chairs to the side.
In the main house, there are five beautiful, spacious rooms with the same luxury amenities with full or partial ocean views separated on two levels, with a crow's nest above offering amazing 360-degree views of the island and surrounding ocean environment peppered with coconut trees, natural vegetation, an abundance of coral and beautiful white sand that comes right up to every structure on the island.
Among the unique aspects of Hatchet Caye is that they operate on solar power 18 to 22 hours a day; have their own organic garden, where they source a great deal of the fresh herbs, veggies and fruit used to create the daily fare; and fish daily or buy fresh catches from the local fishermen.
Your stay here also includes full use of everything at their Pirate Reef Dive Shop, including stand-up paddle boards, recreational and fishing kayaks, fishing gear, snorkeling gear, pedal boats, a water trampoline and float launch, inflatable rafts, Hobie cats, a fresh water swimming pool, a sand/grass volleyball court and a football/soccer field.