'The Glass Menagerie' shines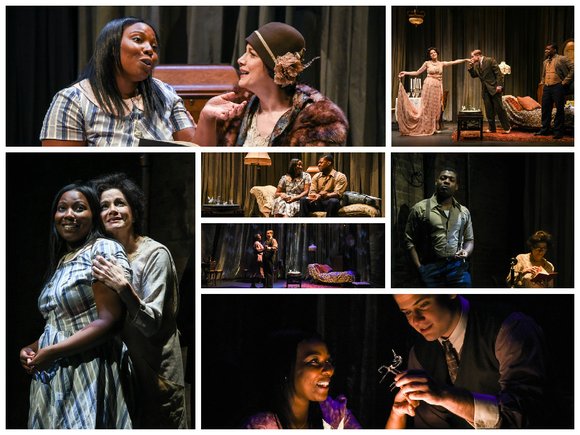 The Masterworks Theater Company is proving that classic plays are truly timeless. They are so universal in their messages that they can be the perfect vehicle to introduce audiences to the beauty and power of a live staged play. This is what you experience when you see its current production, Tennessee Williams' "The Glass Menagerie."
What also adds to your enjoyment of the play is the bold usage of non-traditional, color-blind casting. In a production that normally featuring a white cast, this play showcases a Hispanic actress, Saundra Santiago, as the mother Amanda Wingfield; African-American Richard Prioleau as her son, Tom Wingfield, and the narrator; and African-American Olivia Washington as Laura Wingfield. White actor Doug Harris plays Jim O'Connor, the gentleman caller who comes to dinner.
These cast members' skills are such that their race doesn't matter, the production simply flows from the onset. These actors help the audience to see the humanity, fears, frailty and frustration that the characters are experiencing.
Santiago as Amanda is a frustrated, nitpicking mother, who constantly nags her children, especially Tom.
Amanda also tries to stay on the back of her daughter, Laura. She is worried about Laura's future because Laura is crippled, has no skills and has no gentleman callers, which means no prospects for marriage. While the mother may seem negative as she nags her children, one can also see that she does it out of love and concern.
Amanda is also a woman who regrets the choices she has made in life and whose only pleasure is to recall how beautiful, popular and posed she was in her youth and how one day 17 gentlemen callers came to see her. Santiago helps you to feel all the emotions Amanda experiences.
Prioleau is energized and a powerhouse as Tom. He craves adventure but knows he is saddled with the responsibility of supporting his mother and sister at a dead-end job at a warehouse that he hates. His mother puts overwhelming pressure on him to get his disabled sister a gentleman caller, married and in a home of her own, but he knows that Laura is painfully shy. Prioleau's performance is astounding, and the audience definitely sympathized with his plight. He takes a great deal of verbal abuse from his mother, to the point that when he verbally assaults her, you understand why. Tom is a character that the audience can identify with, as numerous responsibilities are piled upon him and he is expected to just carry the burden and be happy.
Washington, making her New York stage debut, is a pleasure to watch in the role of Laura. She shows the many facets and layers of this character, the painfully shy young girl who has no friends, no skills and no education, the girl with no self-esteem and a fragile appearance. She has an awkwardness around strangers that makes her captivating to watch. While she is not ready for primetime—the outside world, business college or the dating game—she is a deeply caring and loving person who is capable and glad to help her family when they need assistance. Laura is someone dying to feel like she fits in, and even if it only lasts for moments, she seems grateful for the chance to feel "normal."