Happy birthday Regent Adelaide Sanford
11/26/2015, midnight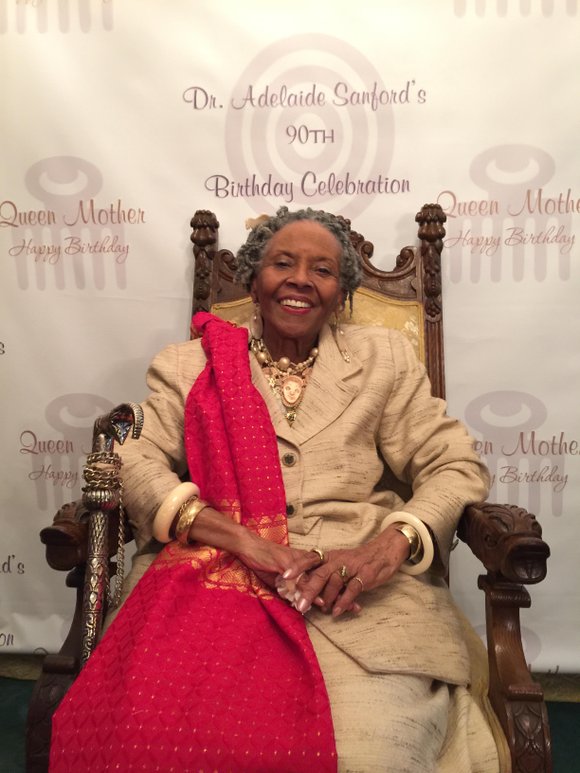 Saturday, Nov. 21, 2015, the Adelaide L. Sanford Institute, the Board for the Education of People of African Ancestry and Elders House hosted a 90th birthday celebration for Dr. Adelaide L. Sanford, vice chancellor emeritus, NYS Board of Regents, at MIST in Harlem to a sold-out crowd of more than 275 people.
This event was truly a celebration of a life well lived and served. Dr. Lester Young, NYS regent; judges Priscilla Hall and Cheryl Gonzales; and former Essence magazine editor in chief, Susan L. Taylor presented reflections of Sanford's legacy.
Sanford studied at Brooklyn College, where she earned her B.Ed. degree in 1947. She received her M.Ed. degree from Wellesley College three years later. In 1967 she earned her Ph.D. degree from Fordham University. Her 35-year career as an educator in New York City included service as an elementary school teacher, a guidance counselor, an assistant principal and a principal. As principal of the Crispus Attucks school in Brooklyn, she garnered a reputation for promoting excellence and high achievement in an inner-city school, gaining citywide recognition for her school's dramatic improvements in student achievement, teacher morale and gifted programs.
In 1986, Sanford won unanimous election to the Board of Regents of the State University of New York. She served two terms as vice chancellor of the NYS Board of Regents. As chairperson of the Regents' Committee on Low Performing Schools, Sanford played an instrumental role in shaping new educational policies that sought to close the gap among schools in student performance. Many honors and awards have been bestowed on Sanford for her work. She received the Congressional Black Caucus Foundation's Humanitarian Award and distinguished alumna awards from Wellesley College and Brooklyn College.
Sanford played an instrumental role in creating the John Henrik Clark meetinghouse in Harlem and Elders House in Selma, Ala.